Open Signal has released a report called "State of Mobile Networks: USA" which took sample data during the last quarter of 2016 from all four national carriers in the US, comparing various aspects of each carrier down to network speeds, availability, and even 3G speeds are taken into account, though 3G is being used less and less, Open Signal reports.
Samples were taken from about 170k users across various networks and pinned them up against each other. The report samples about 4.6 billion data points to make comparisons across carriers in the US.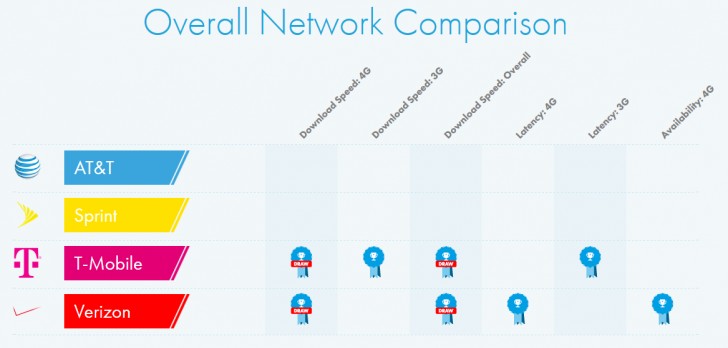 Source: Open Signal
The 'Overall Network Comparison' ties Verizon and T-Mobile together in two categories: Download Speed: 4G, and Download Speed: Overall, which we assume incorporates both 4G and 3G speeds. This would make sense, given that T-Mobile's 3G speeds (HSPA+) are much faster than Verizon's 3G (CDMA) speeds. T-Mobile beats Verizon in 3G speeds, and 3G latency while Verizon has T-Mobile beat in 4G latency and 4G availability.
T-Mobile won in two more categories that it didn't tie with Verizon, these two categories are both becoming more and more irrelevant as the majority of users in the US are being almost (if not entirely) supported by LTE signals as 3G technologies see less usage.
Back to the speeds, Verizon saw an average of 16.9 Mbps while T-Mobile saw 16.7 Mbps in 4G data, close enough for a statistical tie (higher HSPA+ (3G) speeds allowed both Verizon and T-Mobile to tie in the overall speeds category with an average of 14.6 Mbps. Verizon and AT&T saw a boost of about 1 Mbps over the last quarter, and while T-Mobile stayed steady, Sprint's network dropped slightly.
We see speeds on the increase at operators like AT&T and Verizon thanks to new upgrades and new 4G spectrum, and in individual cities operators are pushing well beyond 20 Mbps in our download tests. But in our nationwide tests, all four operators fell short of the global LTE download average of 17.4 Mbps.
S
JOHN LEGERE is blind And OPEN SIGNAL - wake up VERIZON has a superior network..
a
51 States of America compare to Singapore and South Korea? are you kidding?!