Verizon joined AT&T and Sprint by making several major announcements at this year's CES. The biggest player on the US carrier market unveiled the Samsung Galaxy Tab 7.7, Motorola DROID RAZR Purple edition, DROID RAZR MAXX and Droid 4, whilst the HTC's Beats-powered beast the Rezound is getting a $100 price cut on its two year deal.
The 7.7" Super AMOLED Plus-packing Samsung Galaxy Tab 7.7 LTE is finally about to land in the US. But save for the LTE connectivity, nothing has changed specs-wise - it features the same 7.7" 1280 x 720 super AMOLED display, dual-core 1.4 GHz Exynos chipset and Android Honeycomb with a TouchWiz UI on top.
The popular DROID RAZR received a shiny new purple paintjob that should appeal to the nerdettes out there. But don't think you boys aren't covered too - Motorola and Verizon also unveiled the DROID RAZR MAXX. It measures 8.99 mm, has 16GB of onboard storage (plus a 16GB microSD card in the package) and an insanely long-lasting battery. Moto says that the 3300 mAh monster of a battery can last for around 21 hours of talk time on a single charge. It will retail for $299 on a two year deal with Verizon, which is quite pricey. Still you can't put a price on stellar battery life these days.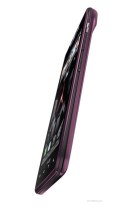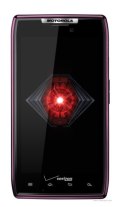 Motorola DROID RAZR purple version
The powerful battery and added girth aside, the Motorola DROID RAZR MAXX is identical to the DROID RAZR. It features the same 4.3" Super AMOLED display of qHD resolution 8 MP camera, dual-core 1.2 GHz processor, etc.
Both the DROID RAZR and DROID RAZR MAXX will run on Verizon's LTE network. Motorola also confirmed that the RAZR devices will come out running Gingerbread but will be updated to Ice Cream sandwich eventually.
The Motorola DROID 4 offers a 4" qHD (540 x 960) display, a slideout QWERTY keyboard for enhanced texting, Android 2.3 Gingerbread, LTE connectivity for fierce data speeds and Motorola's business-minded email, calendar and contacts encryption.
All above-mentioned devices will become available at Verizon retail and online stores in the coming weeks.
The last Verizon-related piece of news for today is that the HTC Rezound got a healthy $100 price cut on a two year deal. What was once $299 is now available for $199 at Verizon stores.
F
the droid name is not what is used to be damn it! motorola stop burning up the brand name!
M
this is a very good fone .becouse it is most beautyfull to see & looking great i like very- very
M
The LG Prada 3 is 8.5 mm, but overall you are right.
ADVERTISEMENTS