Despite earlier reports, the upcoming DROID RAZR HD will not feature the extended battery capacity of its RAZR MAXX counterpart. This is disappointing, as there was talk that the undisputed king of our battery life test may finally have met its match. The camera will also be of the 8MP variety – down from the 13MP mentioned earlier.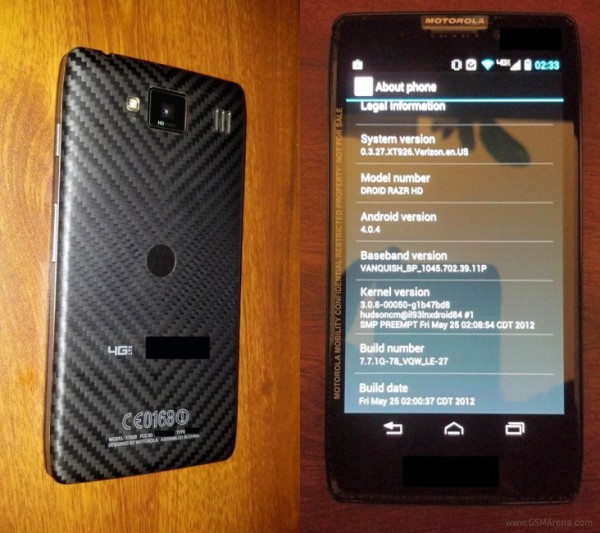 Either way, the RAZR HD is quite the looker, with a full Kevlar back panel and 4.6" HD display. Inside, you'll find a Snapdragon S4 MSM8960 chipset, sporting a dual-core 1.5 GHz Krait processor and while we don't know how much internal storage the RAZR HD will have, it is set to feature a microSD card slot.
The RAZR HD will come running ICS out of box, with a Jelly Bean update rumored to come sometime in 2013. The battery included will have a respectable 2530 mAh capacity, although that's a far cry from the 3300 mAh behemoth found in the RAZR MAXX.
?
Like i said excessive flamers for small comments. especially when you are not grasping what was said in the first place. good job typing to hear yourself flame.......
N
And what exactly is "IT"? I simply pointed out that the number of cores means nothing at the moment. Many buy in to this core race, as they did the MP race in phones and MHz race in CPU's before. In the PC world we have a 8-core 3.1 G...
D
"The users never wanted it too" ahahahaha and you're talking for all the 7.5 users, as if...now you say that because you cryed a lot since you learned that microsoft won't be doing the update wp8 despite of Nokia's wishes. You will never ge...
ADVERTISEMENTS