Motorola unveiled their new RAZR series a few months back at their On Display event in New York, where US residents were pleasantly surprised by the low on-contract prices for the DROID RAZR HD, RAZR MAXX HD, and RAZR M.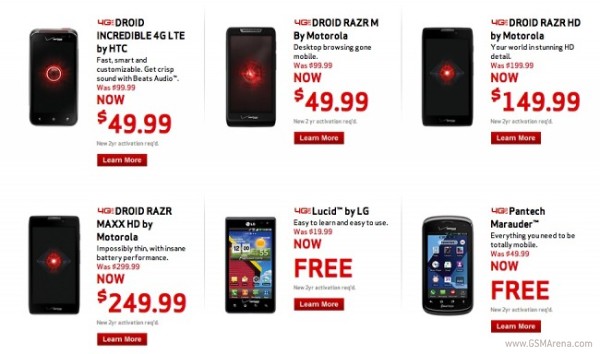 Verizon has slashed prices even further, and has knocked down the cost of each device by $50 a pop. The RAZR MAXX HD can be had for $249.99, the RAZR HD for $149.99, and the midrange RAZR M for $49.99. They're also putting up the DROID Incredible for $49.99 as well, among others.
Really savvy buyers can look to Amazon for even better deals, where the RAZR MAXX HD can be had for $149.99, the Incredible gets slashed down to $9.99, and the RAZR M can be had for just a penny.
Happy Shopping!
J
Plz sell your cellphones in low range, so that we can by it.
I
That aint cheap. Go to amazonwirelss. Renewed my line a couple of months ago and got the droid maxx hd for 175 free shipping.
ADVERTISEMENTS