The phone is barely out of the gate and Google is already showering it with updates. Immediately after launch, the Verizon Galaxy Nexus in the US received a new update, which updated the phone from Android 4.0.1 to 4.0.2.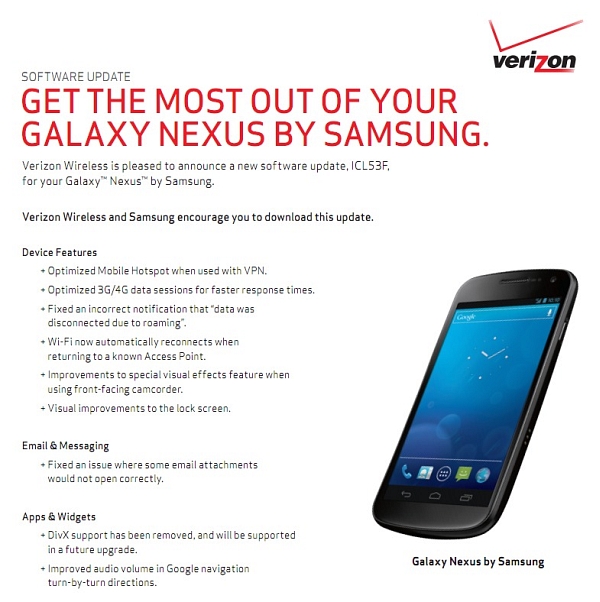 As you can see from the image above, the list of improvements is quite extensive. The update weighs in at 10.7 MB and is made available to download as soon as you activate your new device. We are assuming this update will make its way across the Atlantic Ocean to the many Galaxy Nexus in Europe soon.
i
Com'on people, this has been out for 5 days (i bought mine Friday and am happy.) need to say i do not have 4G but this is so superior to old.Droid 1. LOOK, Moto barely upgrades anything, instead they want to sell you a new phone at 5-600. So.b...
?
Remember, nexus line is a set of developer phones. Meant for devs to work and experiment on. The emphasis is to cram as much hardware as possible for the devs to play with. Phones like the sgs2 are consumer devices where the oems can have desig...
?
This phone have too many bugs and kwalite is 0. Kamera is behind S2.Screen contrast is low.Standby time is too low.Speaker voice is too low than Htc Desire HD. I think ics version not ready yet.
ADVERTISEMENTS