Turns out the expected Verizon's big announcement today is all about the CDMA iPhone 4. Apple's latest gadget has the same specs as its GSM sibling (sorry guys, no LTE) and will hit the Verizon's US network on 10 February.
The CDMA iPhone 4 has been finally unveiled at the Verizon's press-conference. It won't be exclusive to Verizon only, but it's the first CDMA carrier to offer it.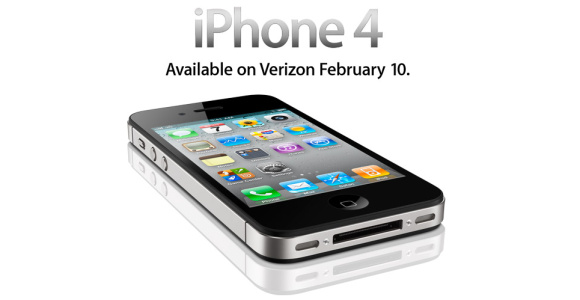 The CDMA iPhone 4 has the same specs as its GSM-version - the Retina display, 1GHz Apple A4 processor, 512MB RAM, 5 megapixel camera with LED flash and 720p video recording, 16GB or 32GB internal storage and various connectivity options. There won't be LTE support.
The one thing that's changed for sure is the antenna - it's re-designed to work with CDMA networks and is divided into slightly different parts. The volume keys are also a wee bit offset so that may turn a bummer with tightly cut full-body cases.
The iPhone 4 won't be able to do voice and date simultaneously (a CDMA network limitation), but Verizon's CDMA development team promises to fix that in the upcoming months. Verizon claims its 3G network is great and the iPhone 4 will take full advantage of it.
Since this one doesn't have the SIM card slot seen on the last week's leaked pictures of the iPhone spare parts so perhaps these are either fake or they really represent the next-gen iPhone 5.
Verizon will offer the iPhone 4 on contract for $199 (16GB) and $299 (32GB). The contracts include use for a new iOS feature called Personal Hotspot. It's an expanded way of tethering other devices to use your phone's 3G connection. In addition to offering connection over USB and Bluetooth, the new Personal Hotspot creates a Wi-Fi access point too.
For what it's worth, the Verizon iPhone 4 runs a yet unseen version of Apple's iOS, called iOS 4.2.5. Perhaps the Personal Hotspot option is part of it and we may see it on all other iOS devices in the future.
The exclusive pre-orders for existing Verizon customers start on 3 February, while it will become available in every Verizon store on 10 February.
s
i request the guys plz if u want to use other than this ... u can but plz just compare this with other im swear it is good.... if ur irritating to wait k just go head but dnt discorage the people who ever they r using this apple..... stay with ...
s
i really thank u for using this apple..... bcoz few guys are insisting that it is worst in use.... so on... but i fell great 4 using this
ADVERTISEMENTS