You didn't think Verizon is just going to just sit by watching AT&T grow its LTE network, did you? The Big Red carrier announced today its 4G LTE network will undergo expansions and enhancements in 10 cities and regions across the U.S.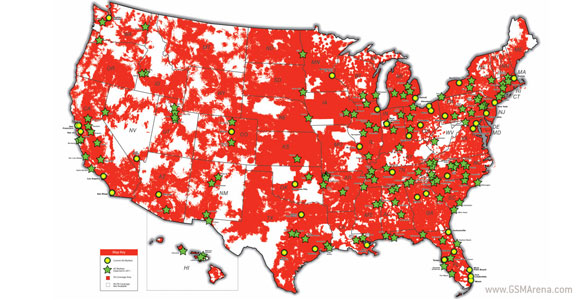 Here are the ares, which will get new or expanded Verizon LTE networks.
LaGrange, Georgia
Brunswick, Georgia
Ocala, Florida
Macon, Georgia
Pierre, South Dakota
Dodge City, Kansas
Cattaraugus-Allegany Counties (New York)
East and Southeast of Des Moines, Iowa
Wichita, Kansas
St. Louis, Missouri
Southwest Missouri
Southern Illinois
Furthermore, the city of Buffalo in New York will be undergoing enhancements, so residents should expect the service to substantially improve. The changes and additions will take effect come April 19.
D
Yeah, doesn't matter if At&t is behind. I live in Los Angeles and I get HSPA+ speed of 10mbps with 69ms ping in some areas. Not too bad for 3G. My friend has AT&T LTE and he gets 32mbps with 70 ping in some areas. I have seen LTE in some veri...
J
AT&T 4G LTE is now available in a total of 31 markets to 74 million consumers. Dallas-Fort Worth, TX San Antonio, TX Houston, TX Atlanta, GA Chicago, IL Baltimore, MD Washington D.C. Athens, GA Boston, MA Sarasota/Br...
?
HSPA+ on AT&T is really good, so it doesn't matter all that much if they are a little behind Verizon in the LTE race. And on top of that Verizon needs to add LTE because their old network doesn't support voice calling and internet access simultan...
ADVERTISEMENTS