Moto Z Force Droid Edition hands-on
Don't let the thin profile fool you! The Moto Z Force Droid actually feels heftier than it looks thanks to the larger battery and improved camera hardware. The phone feels really solid and dense. As it should, the extra strong materials that make the phone shatter resistant surely play a role in the weight of the phone.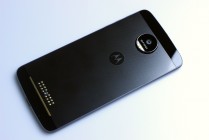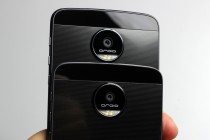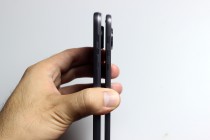 Rear of Moto Z Force Droid • Moto Z Force Droid (top), Moto Z Droid (bottom) • Profile view of both phones
One way to tell the Moto Z Force Droid from the Moto Z Droid (besides their thickness and weight) is by the frame. The Moto Z Force Droid has a pronounced bevel all the way around the frame of the phone. This bevel is not present on the Moto Z Droid.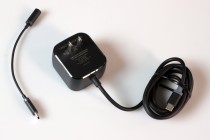 3.5mm headphone adapter and Turbo Charger
Just like the Moto Z Droid, the Z Force does not have a 3.5mm headphone jack. This is likely to keep the device thin and reallocate as much space needed in order to support the Moto Mods as well as the large battery. The good news is the phone includes a USB-C to 3.5mm headphone jack adapter in the box, along with Motorola's Turbo Charger.
In front of the device, the first thing that one might notice is the front-facing LED flash which is used to light selfies taken with the front-facing 5MP camera. In the middle of these two is the ear-piece, which also doubles as the loudspeaker. Below that is the 5.5 inch QHD AMOLED screen.
The top of the phone houses the SIM and microSD card slot and something I've noticed when opening the slot is that this device is not water resistant, but splash resistant thanks to that nano-repellant coating. The Galaxy S7, by contrast, has a gasket around the SD card slot and even reminds you not to take the phone for a swim until you've sealed it back up again.
The bottom of the phone only has the one USB-C port.
The left side of the phone features nothing. Moving on to the right side we have three physical buttons - these are the only physical buttons on the device. The button layout is definitely a departure from the Moto X and the placement is much higher than you'd expect. No worries here though, as you can wake/sleep the phone just by scanning your fingerprint - the reader is always on.
Along with our review units, we were also given three Moto Mods to try out with the phone. The Tumi battery pack, JBL speaker, and the most interesting: Moto Insta-Share projector. Hit that next page to check those out!