Just as previously promised Verizon is now offering the Motorola Moto X through its website. In-store availability is said to come in the coming weeks.
The device costs $199.99 on a two-year contract but only comes with 16 GB of storage and in black and white flavors.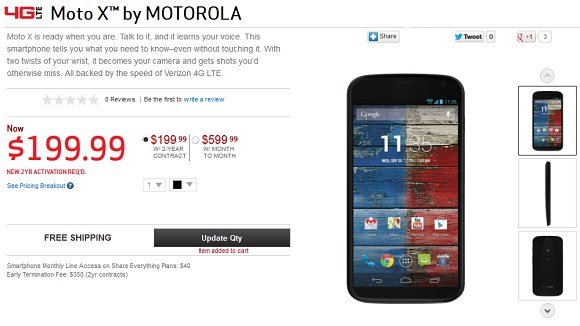 AT&T has claimed exclusivity on the 32GB model of the device and is the only carrier to offer the device with the Moto Maker customization options.
Reddit user admiralANCHOR found the "VERIZON30" coupon code, that you can try and get 30% off the price of the Moto X. Some Reddit users report that the discount is working so if you want and are eligible, give it a world.
The Moto X supports Verizon's LTE network but without the snazzy customization options it's somewhat of a duller affair.
D
16gigs without card slot is useless.
?
16 GB memory is useless specially if it's non expandable and that's the case with Moto X. Price is way too high for a dual core phone. And since it's the first time this phone has been made under Goggle's vision, it's easier for Google to spy on wh...
D
other's only black and white...not fair