Verizon has launched a national trade-in event where-in it's offering up to $300 to those trading-in their old phone and purchasing a new Samsung Galaxy S7, LG G5, Motorola Droid Turbo 2, or iPhone 6S (16GB) on a device payment plan.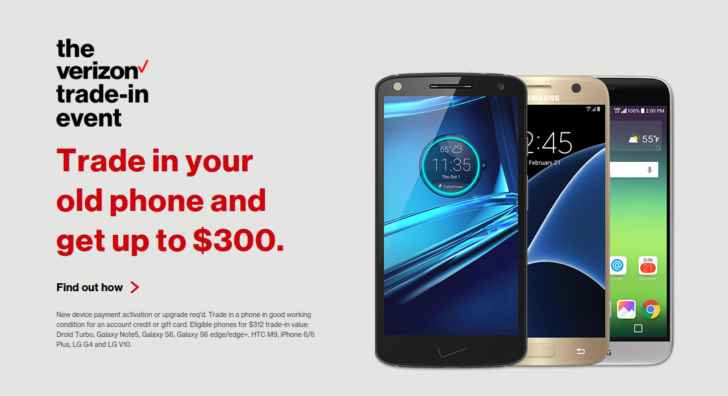 To be precise, a maximum trade-in amount of $312 is on offer, and eligible handsets include the Droid Turbo, Galaxy Note5, Galaxy S6, Galaxy S6 edge/edge+, HTC M9, iPhone 6/6Plus, LG G4, and LG V10. Those upgrading their device will also get 3 months of HBO NOW for free.
An important thing worth mentioning here is that should you choose, you can also have the credit amount applied towards your Verizon bill.
If you want to participate in the trade-in event, you can do so by visiting one of the carrier's physical stores. Alternatively, you can also complete the trade-in process online.
H
Well, they are counting on the folks that change their phones more often than their socks. And that they have more money than sense. Not that there's any lack of them. All of them shouting "Shut up and take my money". They're this capitalist/consumer...
?
The same price for the s6 and note 5 is indeed a rip off, specially considering the note 5 cost like 300 more..
D
No, it isn't, because you are getting free minutes, free SMSs and free MBs (GBs), oh wait they're not free. Well, 312$ for Note 5, S6 and i6 is stupid, and I don't think anyone is gonna take this offer.