Good news for Verizon Samsung Galaxy S4 owners who have been patiently waiting for their Android 4.4.2 KitKat update: it's may be released on May 2nd.
Now the news hasn't been officially released by Verizon, but an internal document was leaked delineating the upgrade date.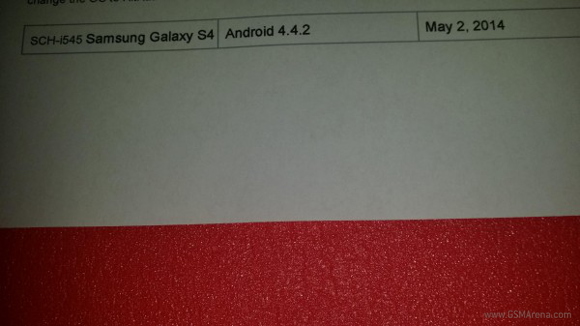 Big Red has been known to be fairly late with their official Android updates in the past, but if the Galaxy S4 gets 4.4.2 by the 2nd, it would be a step toward the reversal of that trend.
Of course, if you opted for a G2 on Verizon instead, then there's a good chance you're already enjoying all the KitKat 4.4.2 fun, as the update for the device has already been rolled out. The catch is, you'll have to use Verizon's Software update assistant, which is only compatible with Windows computers, so, sorry all of your Mac users out there.
The G2 update is a pretty hefty file: 2GB, so it'll take a while to download and install. There hasn't been any news as to when the over the air update will become available, so for now, just sit tight.
M
F I N A L L Y Verizon releases Kit Kat for Note 3 just got it this afternoon 5/13/14
B
4.4.2 Kitkat release eats battery life. Not good at all!!! Any solution?
ADVERTISEMENTS