The Nexus brand was always about the pure Android experience with quick updates from Google. When the Samsung Galaxy Nexus made it to Verizon, that Google experience turned to a nightmare for updates.
The same phone was only able to get updates whenever Verizon felt like releasing them, so they came with delays. That being said, Verizon's Galaxy Nexus stopped getting updates at Jellybean 4.2.2, meanwhile, the GSM unlocked version of the phone did make it to Jellybean 4.3, the last major update for the Galaxy Nexus (it never made it to KitKat 4.4).
A Google spokesperson made a statement to 9to5Google which said:
"Monthly security updates will come from Google, and system updates will be managed by Verizon for Verizon models, and Google for unlocked models bought from Google Store."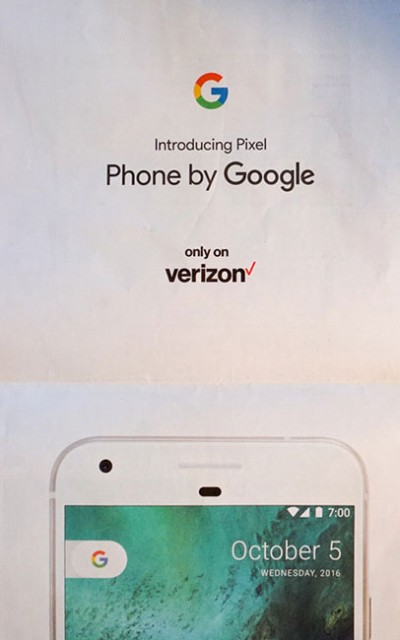 Google Pixel ad in USA Today
This means that Google will still push security updates to all Pixel (XL) phones including those on Verizon, while significant software updates which change the version number, will be released by Verizon on Pixel phones bought through the carrier or at Best Buy (as Best Buy only sells the Verizon-locked version). As a reminder, the Verizon Pixel phones will not come with an unlockable bootloader.
Sidenote: Although ads show the phones are "exclusive to Verizon", which is the only US carrier who will sell the phones, the Google Store will sell Pixel phones unlocked for all US carriers. The ads are misleading in this regard.
While we can't tell how quickly Verizon plans to put out major updates for the upcoming Pixel phones, if you want to avoid Verizon holding updates hostage, you can totally pre-order the unlocked version from the Google Store, as it works with all major carriers in the US, including Verizon. The Google Store even offers 24-month no-interest financing options.
Do you think Verizon is going to update the Pixel phones to the very end of their life cycles? Or repeat what happened with the Galaxy Nexus?
D
Verizon is the largest wireless carrier in the US, hardly a small company.
D
Because for Google, the amount of phones sold to Verizon (means revenues) is more important than the end users. It's simple.
Z
What kind of stupidity is this? Why would Google allow this? I thought they were attempting to compete with the way Apple has control over things.