Fresh out the rumor frying pan comes a press shot of a yet unheard-of Nokia Lumia 729. The device sports a yellow paint job, PureView branding on the camera and is apparently destined to Verizon Wireless in the US.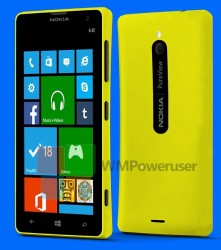 Nokia Lumia 729 (click to enlarge)
Despite similarities in the name the alleged Nokia Lumia 729 looks nothing like the Lumia 720 but may sport the same innards, save maybe for the camera.
The Nokia Lumia 729, could slot just below the Lumia 928 in the carrier's WP8 lineup. There are no specifics surrounding the pricing or specs sheet but some suggest an HD screen is involved. Keep in mind that the information is subject to change or may be a hoax entirely.
D
it has secondary camera and dual sim??
D
How do you know Nokia Asha phones got curved backs ... Give me the link........ Please.......
D
That back side reminds me about Sony's Xperia Arc...