Motorola's Droid Turbo for Verizon is still a top of the line offering, even by today's standards. And while it isn't running Android Lollipop yet (though it's said to get updated to version 5.1 directly), it will be offered in three new colors starting on May 28.
This isn't the first time Verizon and Motorola have launched new color variations for the Droid Turbo, so it's becoming something of a tradition. That said, owners of the handset would probably prefer software support to be better.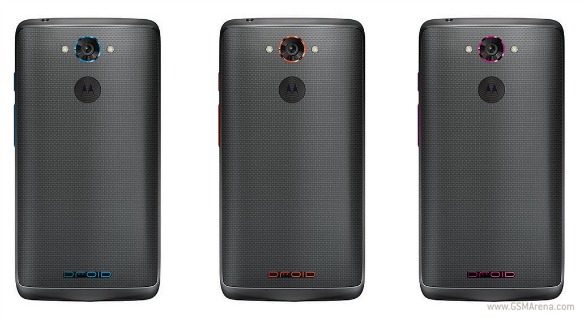 Anyway, in the image above you can see all three new variants. The 'base' color version is Gray Ballistic Nylon in all cases, what changes are the metallic highlights. You'll be able to choose from Metallic Blue, Metallic Orange, and Metallic Violet for those accents.
The new options are going to be available on May 28 both online and in Verizon stores. To grab either one, you'll need to shell out $499.99 if you want to pay "full retail price". Otherwise, you can choose the Edge plan, paying nothing upfront, then followed by 24 monthly installments of $20.83.
For a limited time, Verizon is offering $150 or more if you recycle your old phone (which must be in working condition) and purchase a Droid Turbo on the Edge plan. And if you bring your number to Verizon and activate a new smartphone on Edge, you can also receive a $100 bill credit within 2-3 billing cycles.
The Droid Turbo models boasting the new colors will have the same internals as all the other versions. So we're talking about a 5.2-inch QHD display, 21 MP rear camera, 2 MP selfie cam, Qualcomm Snapdragon 805 chipset with 2.7 GHz quad-core Krait CPU, 3GB of RAM, and a 3,900 mAh battery.
P
I have had most droids but tubo gets better no phone can compare its quality fit and finish . And battery simply the best . Winning combo each model gets better and you have something exclusive from the rest of carriers.
e
I bought the droid turbo nylon balastic unlocked and its working great on T-Mobile, it was 362$ used
E
Learn to read. [quote] The 'base' color version is Gray Ballistic Nylon in all cases, what changes are the metallic highlights. You'll be able to choose from Metallic Blue, Metallic Orange, and Metallic Violet for those accents. [/quote] :P