Adding to their range of Signature series handsets, which so far comprised of the Signature Stainless Steel and Signature Pure Black, Vertu has now announced the new Signature Precious.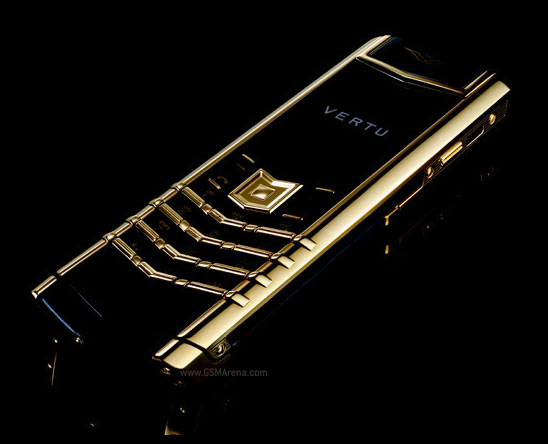 The major difference between this model and the two before it is the type of materials used for its construction. Once again Vertu resorted to using materials that would be more at home in a jewelery shop than on a phone and made sure no cost is spared in making this phone. The keys on the front are made using sapphire and are so hard that they have to be carved using diamond-tipped tools. The patented keypad uses 4.75 carat solid ruby bearings that are designed so that they don't touch the sapphire keys, resulting in zero friction and a satisfying click. Even the SIM card tray is made out of gold or platinum.
The ringtones on this phone are composed by Academy Award winning composer Dario Marianelli and performed by London Symphonic Orchestra and all the flute solos have been performed by the world's leading flutist, Andrea Griminelli.
But the thing that sets this phone apart from others is that each phone is hand-built in England by a single craftsman, whose name is engraved below the battery.
But of course, when you buy a Vertu, you don't just get a phone. There are certain other privileges that a Vertu owners gets to enjoy. For starters there is the Vertu Concierge service, which assigns you a personal lifestyle manager that will take care of all your stuff such as booking tickets, making reservations for you in restaurants and hotels, etc. all at the press of a button around the clock. This service is complementary for the first six months. Then there is also the Signature Precious Certainty, which gives you two years of complementary repairs without restrictions. And lastly there is a beautiful desk stand for your phone. We wouldn't be surprised if it comes with its own desk.
Underneath all that precious metal and gems is a standard 3G phone with basic functions like Bluetooth and Wi-Fi built-in and an OLED display. None of the fancy stuff you see in modern smartphones. But then again, those are not the things for which you buy a Vertu.
No prices have been mentioned so far but you know what they say about having to ask the price.
d
i want know this phone price
E
Hey guys) it was fan to read all of your comments.. There is something more then just an old , boring, heavy phone.. The owner of the VERTU is a VIP client, book best hotels, fashion shows, events, restaurants. Having this phone gives you...
N
Vertu is for super rich people only (kings and queens of the world shal i say).. they dont need smartphones because its their slaves who use it to make them even richer.... i hope you guys get my point - guys who buy these handsets are at the top of ...
ADVERTISEMENTS