Like some people say - in times of trumoil, the most valued goods are the luxury ones. Well, obviously Vertu want a piece of the action with their luxurious extra expensive Vertu Ti Ascent Damascus Steel.
While on the inside Vertu Ti Ascent Damascus Steel is the same as the already well known Ascent Ti, the designers have gone through a lot of work on the new outfit.
The all-metal body of the new Vertu Ti Ascent Damascus Steel is made to last forever. Allegedly, the strength and hardness of the steel rest on an ancient forging method revived for the production of the device. The same method was used ages ago for the production of the famous Damascus sword blades.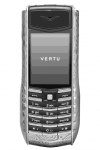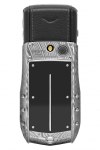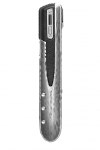 Vertu Ascent Ti Damascus Steel
Another impressive detail on the outside of the Vertu Ascent Ti Damascus Steel is the unique swirl design which was made by hand etching each unit. Only one hundred units of the Vertu Ascent Ti Damascus Steel will be produced and there is still no word on pricing or availability yet. But we can easily tell there's going to be a heavy price tag involved. And we mean dead heavy.
Source
v
Just a response to dakkk - the material does have the pattern ALL the way through. It is a mix of two different stainless steels- but to get the pattern really bold you have to etch the material. This 'eats' into the less resilient steel ever so slig...
D
This one is probably the model i like the most, even though this is pretty ugly too. A complete Damascus Steel phone would mean for the ladies it would double as a self defence weapon, since it won't break. So there ya go its going to me a mind bogge...
d
Looks nice, pity it is just etched and not truly made. If they are making only 100 pieces, they could have as well smithed the steel and beaten it into sheets for use in the phone :) This would be COOL! Looks nice anyway and should actually have...
ADVERTISEMENTS