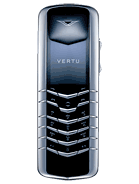 s
Is dis phone from d same peeps who manufacture the brand name nokia.Its just a brand name but anyway great to have.
P
Its not a phone,ITS A LIFESTYLE!Its all about proven technology,not the latest.
S
i just wonder y some company make phones when they know it will not be successful n it is so bad that it cant even catch up with the market n technology?
?
oh come on guys! I don't really care about all those gprs, camera stuff...

I got myself the Platinum Signature.

Who needs GPRS? I have a laptop that can do FAR FAR BETTER!!
And who needs a low grade mobile built-in camera? I just bought myself a good 5MP digital camera...

Oh by the way a 10MP digital camera was just released... I'll get one right away...
?
hmmm, 22,000$ for a mobile? i think il stick to the usual 500@ SE and buy myself a nice o'e trans am instead, and maybe a small trip around the world!!

J
Well...........this shows that not all rich people like "smart phones"..........
?
this phone is very expensive for its function!!!!!! In Azerbaijan this phone costs 17.000 euro!!
S
This phone looks good- il agree to that
But it does phuq all in terms of features- i mean come on- it hasnt even got gprs which all phones have now
M
this fone is ssssssssssssik am gonna get it its baddddddddddddddddddddddddd bad am gonna het and it si a good fone
d
I honestly think that this is a phone for rich(very rich)people to use.
it has no special functions,it is supposed to be worn as a part of jewlery.I dont like it and if I had such a device in my pocket I would be afraid to carry it because of its price.
No offences to the manufacturers or owners of this phone but money should be spent on more important things.
gr.Dzhuhy
Total of 334 user reviews and opinions for Vertu Signature.