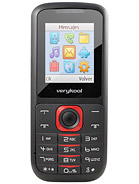 ?
what means the puk number? i used pin number, but never used puk number

thank you
D
i am trying to open this phone to change the chip, and frankly it is impossible. Can someone help me and explain how to open it?
V
Battery too thin, fully charged in standby last two days, checking some times for emails, last 1 1/2 days.
V
Te phone cell is OK, easy to operate, the problem is with the battery, is too small, full charged last only two days in standby, if you make a couple of calls, energy last even less.
i
Just curious why do you think this would be a suitable phone for a world traveller?
F
It's a 1.8 inch screen! For those whom cannot read a 17" monitor, that may be a problem. Perfect phone for the world traveler!
Total of 10 user reviews and opinions for verykool i125.