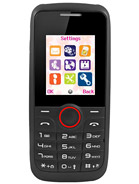 D
I think its cool to have a cell phone with blutooth and GPS ccapabilitie.Personaly speaking about my needs I could just use phone or concentrate on the web links or just simply doing a few cybertask but its fine that in just one hand grip we could handle lots of cyber tasks I just can't walk and chew bible gum at the same time good for the future of technological featured living good job new technologists ingeneers I hope to conquest the heart of my girlfriend .
?
Yes just what I was looking for 19.2 % up to real scale capture you could actually take it to PCR Lab and impress the blondes and get A PLUS + on field test with the light that comes within it how do I register this verykool 21century communication equipment?

Total of 3 user reviews and opinions for verykool i133.