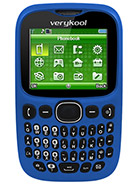 V
The phone has a qwerty keyboard and a large screen which makes it kool but It has very bad battery quality and has only one ringtone for everything and has only one wallpaper which is its logo and this doesn't makes it kool
K
I really don't like the phone. In Steven Luong's video called The most annoying low battery alert, The low battery alert is very annoying. It ripped off Blackberry phones, the Motorola Q, Samsung Gravity TXT, Motorola MB508, and some other phones
C
I dont like it. Sim card missing. Dosen't show my phone number. I do I shipped it back?
D
AnonD-100519, 15 Feb 2014its blue ermergerd you cant go wrong !!!!!!!!!!!!!!!!!!!How do u turn this very kool i603 on.? I charged I don't get it, someone help me dee from south philly
j
These also come in a canary yellow/lime color and shout "Hey Here I am over here!!!" .. download the find me app to hear it and the color shouts even louder!!!
Total of 9 user reviews and opinions for verykool i603.