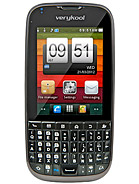 K
I'm trying to sell my phone. It's this model and I got it a few years ago. Although, there are two cracks across the screen, its still working... just died.
H
what about the mb of downloading which one is the capacity
D
The verykool i675 phone itself is a pretty good bang for the buck, considering its price point. Figuring out how to use the phone is a bit of a challenge though, because the user manual is written in poor English, and doesn't go into much detail.
Even so, I was able to bluetooth-pair my new i675 with my old Samsung R390, then use the synch function on the i675 to get my whole contact list transfered over from the old phone to the new, without reentering everything.
Phone-to-PC bluetooth-pairing did work with the old phone. However, it did not work with the i675. Nevertheless phone-to-PC transfer works fine with the i675 using the USB cable.
I am able to get internet on the i675 using my home network, and using hotspots downtown.

Total of 5 user reviews and opinions for verykool i675.