A few months ago, WhatsApp nixed video calling from the Beta version of the App on Android. Some users that had the correct version of the WhatsApp beta were able to make calls, until the feature was disabled.
It appeared that, although some were able to make video calls the first time around, WhatsApp was not quite ready to launch the feature. Video calling was put back into development and postponed for a later date with no word on how long it would take. After several months of testing and refining, the video calling feature is ready for complete public rollout soon.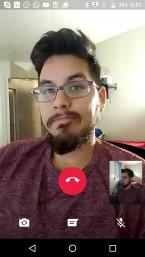 WhatsApp Video calling feature enabled on Beta
Today, it appears that WhatsApp has brought the feature back to Android users signed up for the Beta. I was able to sign up for the beta and updated the app right away. I was able to make a video call with another phone running the same beta build. Anyone who has the option enabled can make calls to others.
Meanwhile, the iOS version doesn't have the feature enabled yet. I tried making a call from an iPhone and the option for video call is not there. This is after updating the app to the latest October 19 version.
The most successful messaging platform on the planet, WhatsApp has over 1 billion monthly active users and offers a great way to communicate with loved ones overseas without incurring long-distance charges. WhatsApp is slowly, but surely, adding more features to the messenger as time goes on.
a
my video call suddenly drop after 1 second i press "video call". it says "call not answered". both are have beta version. disappointed beta version
?
Next, they will add live video. Just like the one on FB & IG.
I
Yes Skype may lose some users but skype have security password where whatsapp missing this feature............... Those who want best video calling experience with best security will go to Skype and Majority will go to whatsapp ........... I don't th...