Video shows off new One UI 3.1 features plus Galaxy S21 Ultra extras like the S Pen support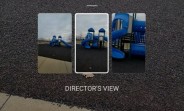 Samsung will unveil the Galaxy S21 trio on January 14 and the phones are expected to come with the latest version of the company's Android customization, One UI 3.1. Current models are getting version 3.0 along with their Android 11 updates, so the S21 series will have some exclusive features.
The following video posted by Jimmy is Promo is a quick-fire summary of the visual changes and new features. This is recorded on a Galaxy S21 Ultra specifically, which includes S Pen support. This part starts one minute into the video and shows off classic Note functionality such as Screen off memo, Air view, Air command and shortcuts.
There are improvements for the camera too, including Focus enhancer, multi-camera recording (with split-screen, picture-in-picture and other options) and more convenient settings.
By the way, the multi-camera recording feature isn't all that new, but you can see that the phone displays live views from three cameras simultaneously – this is made possible by the triple ISP of the Snapdragon 888 (presumably, the Exynos 2100 has similar hardware as well).
There's more, Samsung Internet and Notes data can be synced between your phone and tablet. This allows you to copy some text on one device and paste it on the other. Also, there's the option to replace the Google Discover news feed with Samsung Free.
The video concludes with some specs from the Settings menu. It shows that this version of the Galaxy S21 Ultra packs 16 GB of RAM and 512 GB storage (as a reminder, the Ultra will be the only one with a microSD slot. Also, the battery capacity is 5,000 mAh.
If you have a Galaxy phone already and plan to keep it, you can read our One UI 3.0 mini review for what's coming to your device.
T
Interesting features. The director's view is pretty neat.
ADVERTISEMENTS