ViewSonic announced three new phones all of which run Android Ice Cream Sandwich and have two SIM slots. That might make them the first dual-SIM Android ICS phones, for what that's worth.
The best-specced of the three phones has a 3.5" Super Clear IPS LCD with 640x960 pixels resolution and is called - wait for it - ViewSonic 4s. Yeah, like that iPhone Apple have. Anyway, it also has a 1GHz processor and a 5MP camera.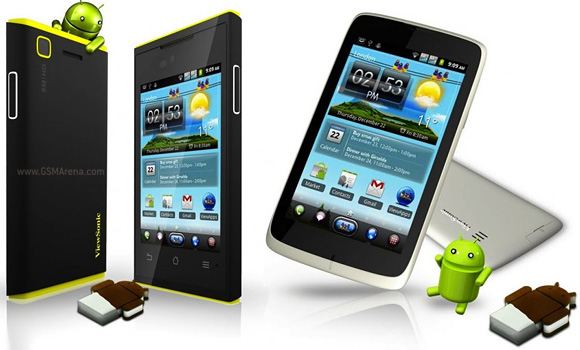 The other phone is the ViewSonic 3GS, uh, 4e which has a 3.5" HVGA screen, 3MP camera and 650MHz and is 10.3mm thick.
With these names Viewsonic is obviously staking on the remote similarity to Apple products. It's really a ridiculous move and we can't quite wrap our heads around their concept. Ok, perhaps, not ridiculous, but kinda sad.
The third one isn't just a phone - the ViewSonic 5e has 5" WVGA screen and is more of a phoneblet, but just like the other two it has two SIM slots and runs Android 4.0 Ice Cream Sandwich.
But whatever, Viewsonic should really stop playing with stuff they don't really understand. Every year the announce a bunch of weird looking phones at the MWC and then nobody hears anything about them. They should probably stick with their monitors.
Source (in Chinese)
D
what aspiring handphone manufacturer should do, dont try to reinvent the wheel,look for past popular phone like sony ericsson arc,copy it exactly the same perhaps with the same vendor who manufactured in china them n stick your logo into it. u ca...
T
When Viewphone 4S launch in INDIA.... Look wise its good...Can you confirm the internal memory,available memory as the Memory card slot is not available.. also the battery capacity...
x
why do you judge the phone,buy one then see if it really is not good,just because you have an iphone doesnt mean that all other brands sucks!!!
ADVERTISEMENTS