Yesterday vivo made the NEX 3 official, and while this phone's screen is probably what will get the most attention with its crazy curvature angle, it's also a beast when it comes to performance. That's because of the Snapdragon 855+ chipset it uses, of course, but we're also thinking vivo is using some secret sauce - maybe it's the hyped up vapor chamber that helps with cooling a lot.
We say that because when we ran the AnTuTu benchmark on it, we got the best result ever - slightly topping the Asus ROG Phone II as you can see in the handy table below. The unit we used was the NEX 3 5G with 8GB of RAM, for what it's worth.
AnTuTu 8
Higher is better
vivo NEX 3
497858
Asus ROG Phone II
492907
Sony Xperia 5
416601
That's a huge number and the only possible disappointment for vivo might be that it got so close to the nicely rounded 500K and yet stopped short.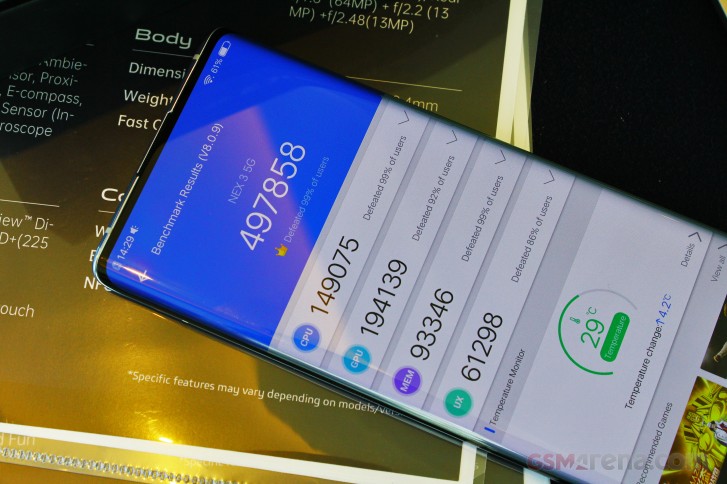 At this rate though, it probably won't take long for a phone to break 500K on AnTuTu. In the meantime, if you were wondering about the NEX 3, it's the new king in town. The obvious caveat here is that benchmark numbers really don't tell the whole story for any particular smartphone, so don't just blindly trust those. Instead, you can look forward to our full review of the device, that will help you get a better overall impression of it. And while you wait for that, don't forget to check out our fresh hands-on review.
4
Agree. Antutu has added some new tests in Antutu 8, so the total score is also increased by around 10%. So basically if this phone were tested on Antutu 7, the score for NEX 3 would be around 452,600ish, still very impressive though.
z
your new toy getting faster for 0,1 second and you need to pay 1000$ its really worth the money xD
ADVERTISEMENTS