Introduction
It's rare to see a concept device go into mass production without losing its coolest feature. The vivo NEX does just that and it even comes in two versions, NEX S and NEX A, so you can have the bleeding edge or the more affordable alternative.
The plan was simple - a bezel-less phone without a notch. The execution wasn't nearly as simple. The innovation that made it possible is the Pop-up Camera. The selfie camera module is mounted on a slide-out element that moves under its own power.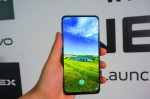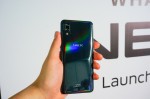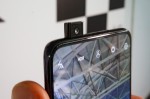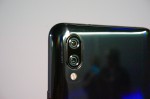 The vivo NEX is on the bleeding edge of smartphone technology
The classic earpiece was axed in favor of a piezoelectric speaker under the display. This tactic of moving things behind the screen continues with the under display fingerprint reader. And this is where the two devices diverge.
The flagship vivo NEX S uses a 3rd generation under display fingerprint reader, the NEX A has a traditional reader on its back. Chipset and memory also differ between the two models, but the innovative bezel-less design is shared by both.
vivo NEX S key features
Body: Metal and glass, reflective triangular pattern on the back
Display: 6.49" AMOLED, 1080p+ resolution, 19.3:9 aspect ratio
Rear camera: Dual 12 MP + 5 MP camera (f/1.8 + f/2.4), OIS and Dual Pixel AF
Front camera: 8 MP camera (f/2.0) on a motorized popup platform
Software: Funtouch OS 4.0 based on Android 8.1 Oreo
Chipset: 10 nm Snapdragon 845, quad 2.8 GHz Kryo 385 Gold + quad 1.7 GHz Kryo 385 Silver, Adreno 630
Memory: 8 GB of RAM, 256 GB storage; no microSD slot
Battery: 4,000 mAh battery, 22.5 W charger in the box
Connectivity: USB-C (USB 2.0), 3.5 mm headphone jack
Misc: Under display fingerprint reader, piezoelectric earpiece, Jovi digital assistant with dedicated button
That's a serious flagship configuration right there. Which is not to say the vivo NEX A isn't an enticing handset. The Snapdragon 710 chipset is starting to establish itself as the "flagship lite" option. The traditional fingerprint reader is a bit boring, but the slide-out selfie camera is one of a kind - not even $1,000+ phones have one.
Instead of listing the full spec sheet here, which is essentially a photocopy, here's what changed between the NEX S and NEX A.
vivo NEX A differences:
Chipset: 10 nm Snapdragon 710, dual 2.2 GHz Kryo + quad 1.7 GHz processor, Adreno 616
Memory: 6 GB of RAM, 128 GB storage; expandable via microSD card
Misc: capacitive fingerprint reader on the back
When we saw the vivo APEX, the cynical voice in our head said "never going to come to the market". That voice was just proven wrong, the NEX phones go on pre-order tomorrow. But more importantly, vivo is establishing itself as a leader.
The company was the first to launch a phone with an under display fingerprint reader and it is the first to combine thin bezels with a notchless screen without compromises (e.g. putting the selfie camera on the bottom).
This makes vivo a leader in innovation, but the company also takes a stance on sane pricing, which means the NEX duo may be some of the most important phones to come out in 2018.
h
hi every body just want you to know that i just moved from samsung note5 to vivo nex a phone .. what i want you to focus on that the nex a : 1- there is no indicator led 2-not very clear sound from earphone , speaker is great 3-OS system is ...
L
The only other company aside from Sony I see really love making mini phone is ZTE. Just telling you incase you looking for compact flagship mini phone. Apple and Google too makes mini flagship but rumor from both side this year said they not doing sm...
S
Flagship or wannabe, for me, camera quality will be the decider.