vivo NEX S hands-on
The vivo NEX S uses its bezel-less powers for good, which is to say it has the biggest screen possible. The official number is 91.24% screen to body ratio - the screen is massive, the phone itself is pretty manageable.
It's an AMOLED panel with 6.59" diagonal, but we need to talk about the aspect ratio - 19.3:9. It's an odd number, but what it means in reality is that the screen is as wide as the 6.3" screen of the Galaxy Note8 and is slightly taller. In total, it has around 6.5% bigger surface area.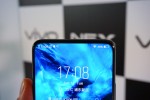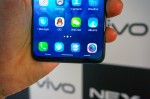 Small bezels, no notch on top • A small chin on the bottom
And all this without a notch! Some of the recent flagships quote diagonals that don't match reality as the notch tends to get in the way of multimedia and games. Not a deal breaker, of course, but vivo shows there's a better way.
Despite the unorthodox hardware (the camera slide-out motor, the piezo speaker), the NEX S weighs 199g, a few grams less than an iPhone 8 Plus and a few more than a Galaxy Note8. Actually, if you have a Note8 around, it's a good estimate of how big the vivo phone is. It is a little wider, though not as wide as the iPhone so ergonomically speaking, the phone really is quite manageable.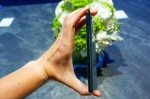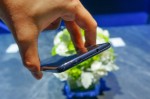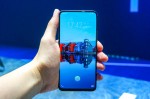 The vivo NEX S has a large screen, but isn't too big to handle
You probably haven't had a chance to handle the vivo APEX, the prototype device that preceded the NEX. It was a smaller phone with a 5.99" screen and even thinner bezels. Now, there's no such thing as a screen that's too big, but we can see the argument that the other NEX, the NEX A, should have stuck with the smaller screen. But more about the A later.
Anyway, we mentioned Samsung and Apple flagships that have undoubted mass market success. But they feel like old news compared to the vivo, which - for better or for worse - is filled to the brim with new tech.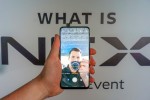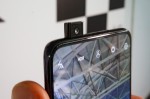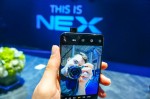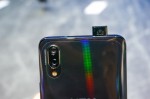 The selfie camera slides out automatically when it's needed
New tech is not without risk, however. We wondered how durable the selfie camera is as motorized components are much more liable to break than the mostly solid state components of a modern phone.
So, we took to opportunity to push on the camera and we're pleased to report that it feels solid - it didn't budge. We went back and asked and it turns out that vivo tested the camera 50,000 times and it can withstand 45 kg (100 lbs) without breaking.
The under display fingerprint reader is a 3rd generation unit (previously, vivo used earlier readers in the X20 Plus UD and X21 UD). It is not perfect, however, at least the one in the demo unit we tested. It's slower than a regular capacitive reader and it doesn't work from all angles.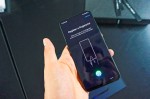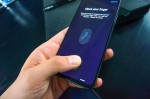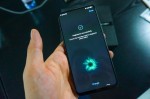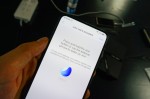 The vivo NEX S joins the prestigious group of phones with an under display fingerprint reader
While the selfie camera popping out is an exciting party trick, the main camera on the rear also deserves attention. It's a 12 MP + 5 MP setup, pretty much what we saw on the vivo X21.
The main sensor features Dual Pixel autofocus, which as proven itself fast and accurate. It has fairly large pixels and 4-axis optical image stabilization to help in the dark, plus EIS for extra stability in videos. The lens aperture is at a fairly bright f/1.8.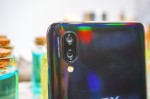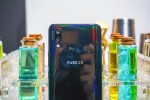 A dual camera with OIS and Dual Pixel AF
The hardware of the selfie camera is an 8 MP image sensor behind an f/2.0 aperture. And you just know there's AI in there, it can recognize up to 140 scenes and can help organize images with 18 tags. Plus AI HDR, AI Filters and AI Photo Composition. You can't have too much of a good thing... or of AI, at least.
Update: We've added camera samples from the NEX S on Page 4. The NEX A has the same camera, so it should produce identical results.
Speaking of, vivo's AI (which is called Jovi, by the way) has a dedicated button. You can use it to give voice commands to apps or to get more info about what's on your screen with the help of image recognition.
The vivo NEX S is a powerhouse up there with the best of them. This means a Snapdragon 845 chipset with 8 GB of RAM. Base storage is 128 GB, but you can go up to 256 GB (there's no microSD slot).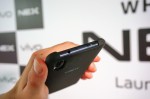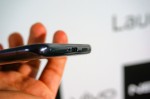 A 3.5 mm headphone jack on top • USB-C and loudspeaker on the bottom
And there's a 3.5 mm headphone jack on top. And when we talked about the weight we probably should have made it clear that there's a 4,000 mAh battery in this hulk. If you start a sentence with "The vivo NEX S does not have a ..." it will be hard to finish it. Well, unless you say "stereo speakers".