The Oppo R5 currently holds the title of "world's thinnest smartphone" at 4.85mm but that may not last long since the announcement of the Vivo X5 Max is drawing near.
Also leaked images show the newcomer has a profile of only 3.75mm.
The company is teasing the device by revealing how its impressively slender body was constructed and how it's better than the R5.
In related news leaked photos show someone actually measuring the X5 Max with a caliper, confirming its 3.75mm claim to fame.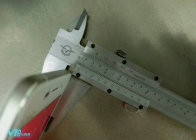 Confirming the 3.75mm claim of the Vivo X5 Max with a caliper
How did Vivo achieve this thickness? According to teaser promo materials, there are not many components beneath the screen. Vivo has moved 90% of the internals (some 786 components) along the sides of the screen, instead of having them sandwiched between the screen and the back. This will make for one interesting teardown (an not so moderate bezels, we'd guess).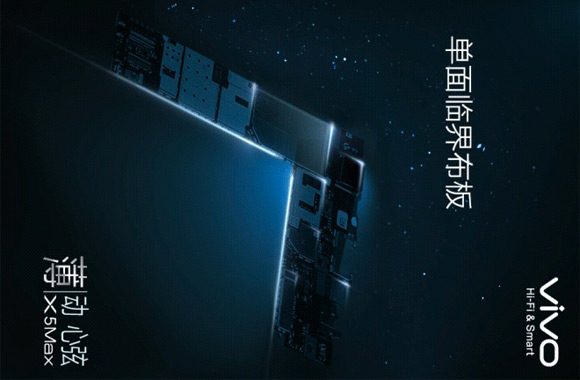 Anyway, the Oppo R5 had to drop the 3.5mm audio jack (which is almost as tall as the phone's thickness) and use a microUSB to 3.5mm converter like in the good old days. There's also no memory slot – two things Vivo says it will not compromise on with the X5 Max.
Interestingly, the upcoming phone will supposedly keep its 3.5mm audio jack, the memory slot and according to TENAA specs will have a 5.5" 1080p screen, 1.7GHz octa-core MediaTek chipset, run Android 4.4 KitKat with 2GB of RAM and pack a slightly bulging 13MP main camera plus a flush 5MP front-facing camera.
The Vivo X5 Max is expected to be announced next month and we may see the Vivo Xplay 5S come out of hiding along with it.
Source 1 (in Chinese) • Source 2 (in Chinese) | Via 1 | Via 2
D
Nevertheless, it's the thinnest phone
l
i know, right...0.7mm which is car body panel thickness is hard to bend with hands....they could even use titanium at 0.5m...its not that expensive.
l
thank you for your intro to reading a caliper, but you've obviously never held oen in your hands.....cause if you did, you'd know theres a height difference between the two parts that make up a caliper....so in the first photo, the expertly trained e...
ADVERTISEMENTS