This article is outdated. We have already published a full review.
Funtouch OS 9.0 based on Android 9.0 Pie out of the box
The vivo V15 Pro runs Android 9.0 Pie out of the box with vivo's own Funtouch OS 9.0 on top. Customizations run deep, which might not appeal to everyone but Funtouch also offers tons of features that are hard to overlook.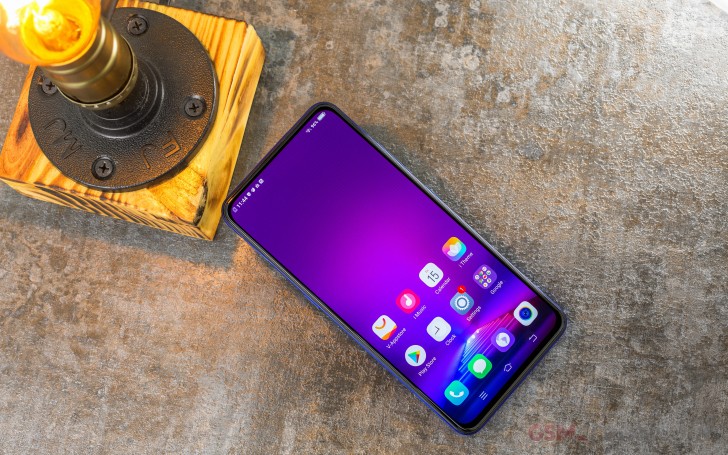 If you are familiar with Funtouch OS, you won't be surprised by this iteration either. There are no shortcuts or toggles alongside the notifications and instead, you have to slide from the bottom to open up the quick toggles. Swiping from the top, will bring out your recent notifications. Here are a couple of screenshots from the settings menu and some of the basics.
As every manufacturer with custom skin these days, the vivo also has its own take on the gesture-based navigation system.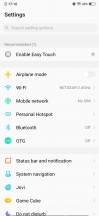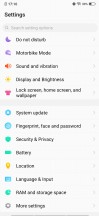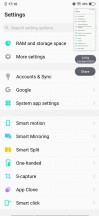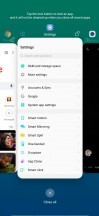 Settings menu and recent apps menu
Vivo's gestures all involve swiping from the bottom edge of the screen. Swiping from the center acts as a home button, swipe and hold brings out the recent apps menu and swipe from the bottom-left is back. However, swiping from the bottom-right takes out the quick toggles menu. They may seem simple enough but with every OEM doing making a version of their own, it starts to get confusing.
Performance
The vivo V15 Pro is the first smartphone with Qualcomm's new mid-range powerhouse chipset - the Snapdragon 675. The chip holds eight of the newly designed Kryo 460 Silver and Gold CPU cores and is made on the so called 11nm process - essentially a mix of 14nm and 10nm parts.
The two Kryo 460 Gold cores are ARM Cortex-A76 derivatives and tick at 2.0 GHz while the six Kryo 460 Silver cores are based on the Cortex-A55 and run at 1.7 GHz. An Adreno 612 will do the heavy lifting.
We couldn't resist and ran some of the benchmarks to see how it stacks against the older Snapdragon 600-series and the higher-end Snapdragons as well. We threw in a Kirin 710 SoC into the mix to see how it fares against the competition too.
GeekBench 4.1 (multi-core)
Higher is better
OnePlus 6T
8977
Razer Phone
6728
vivo V15 Pro
6527
Oppo RX17 Pro
5944
Xiaomi Mi 8 SE
5908
Honor 8X
5651
vivo V11
5535
Xiaomi Redmi Note 7
5411
Motorola Moto G7 Plus
4927
GeekBench 4.1 (single-core)
Higher is better
OnePlus 6T
2431
vivo V15 Pro
2386
Razer Phone
1931
Xiaomi Mi 8 SE
1890
Oppo RX17 Pro
1835
Xiaomi Redmi Note 7
1650
Honor 8X
1618
vivo V11
1457
Motorola Moto G7 Plus
1334
AnTuTu 7
Higher is better
OnePlus 6T
293994
Razer Phone
190271
vivo V15 Pro
180774
Xiaomi Mi 8 SE
170218
Oppo RX17 Pro
154861
Xiaomi Redmi Note 7
139075
Honor 8X
137276
Motorola Moto G7 Plus
117829
GFX 3.1 Manhattan (1080p offscreen)
Higher is better
OnePlus 6T
60
Razer Phone
42
Oppo RX17 Pro
23
Xiaomi Mi 8 SE
23
vivo V15 Pro
17
Xiaomi Redmi Note 7
15
vivo V11
14
Honor 8X
14
Motorola Moto G7 Plus
10
GFX 3.1 Manhattan (onscreen)
Higher is better
OnePlus 6T
53
Xiaomi Mi 8 SE
22
Razer Phone
22
Oppo RX17 Pro
19
vivo V15 Pro
14
Xiaomi Redmi Note 7
13
Honor 8X
13
vivo V11
12
Motorola Moto G7 Plus
9.7
GFX 3.1 Car scene (1080p offscreen)
Higher is better
OnePlus 6T
35
Razer Phone
25
Oppo RX17 Pro
13
Xiaomi Mi 8 SE
13
Xiaomi Redmi Note 7
9
vivo V15 Pro
8.8
vivo V11
8.2
Honor 8X
7.6
Motorola Moto G7 Plus
6.3
GFX 3.1 Car scene (onscreen)
Higher is better
OnePlus 6T
31
Razer Phone
15
Xiaomi Mi 8 SE
12
Oppo RX17 Pro
11
Xiaomi Redmi Note 7
7.7
vivo V11
7.4
vivo V15 Pro
7.1
Honor 8X
6.7
Motorola Moto G7 Plus
5.9
It appears that the Snapdragon 675 could potentially be the new mid-range king or you could say it's a spiritual successor to the Snapdragon 660. Raw performance is outstanding to the point where in single-core benchmarks, the SD675 even crushes the Snapdragon 835 and matches the Snapdragon 845. In multi-threaded tasks, it's pretty much on par with the Snapdragon 835 while still comfortably outperforming the Snapdragon 710.
And while the Snapdragon 675 slots between the Snapdragon 710 and the Snapdragon 845 in terms of raw CPU performance its GPU falls well short of both. In fact the Adreno 612 is barely an improvement over the Adreno 512 in the Snapdragon 660.
It appears that the 675 will be content to be the best mid-range chipset for productivity, leaving the gaming to the Snapdragon 710. We are also yet to see how well it does in terms of efficiency since we haven't completed our battery test yet, but we do expect the vivo V15 Pro to do quite well there.
Wrap-up
There's no two ways about it - the vivo V15 Pro is an impressive phone and easily one of the most exciting mid-rangers in recent times. The full screen front, the large sensor selfie camera on a motorized slider and the excellent 48MP main camera are all features worthy of a flagship.
The OLED panel with in-display fingerprint scanner were already present on the vivo V11 Pro, but that senor was unreliable to the point of useless, whereas the V15 Pro comes with a much more polished implementation that can serve you well in your daily usage.
We mustn't overlook the Snapdragon 675 chipset either as it proved to have more CPU grunt than even the Snapdragon 710 - a favorite to both casual and heavy users last year thanks to its great balance of performance and efficiency.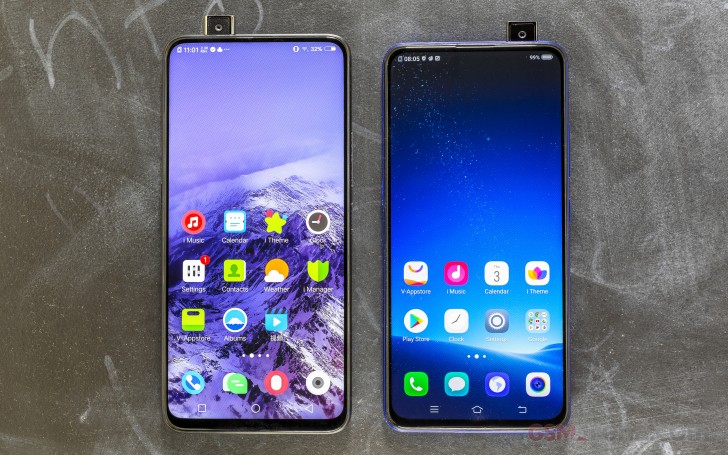 We'd still need to perform a few more tests to be certain but should the vivo V15 Pro do as well as those early ones, it will be an easy recommendation. As long as you still willing to keep microUSB cables in your life, that is.