Android 11 + Funtouch 11
The vivo V20 is one of the first devices to ship with Android 11 out of the box, and it also carries vivo's latest Funtouch OS 11. Unlike the previous iterations of the OS, Funtouch 11 looks and feels like stock Android. We have the standard app drawer at hand, close-to stock recent apps menu, and a notification shade with the usual circular quick toggles. Speaking of, the brightness slider has been moved under the quick toggles for easier reach, unlike the PIxels where the slider is above them.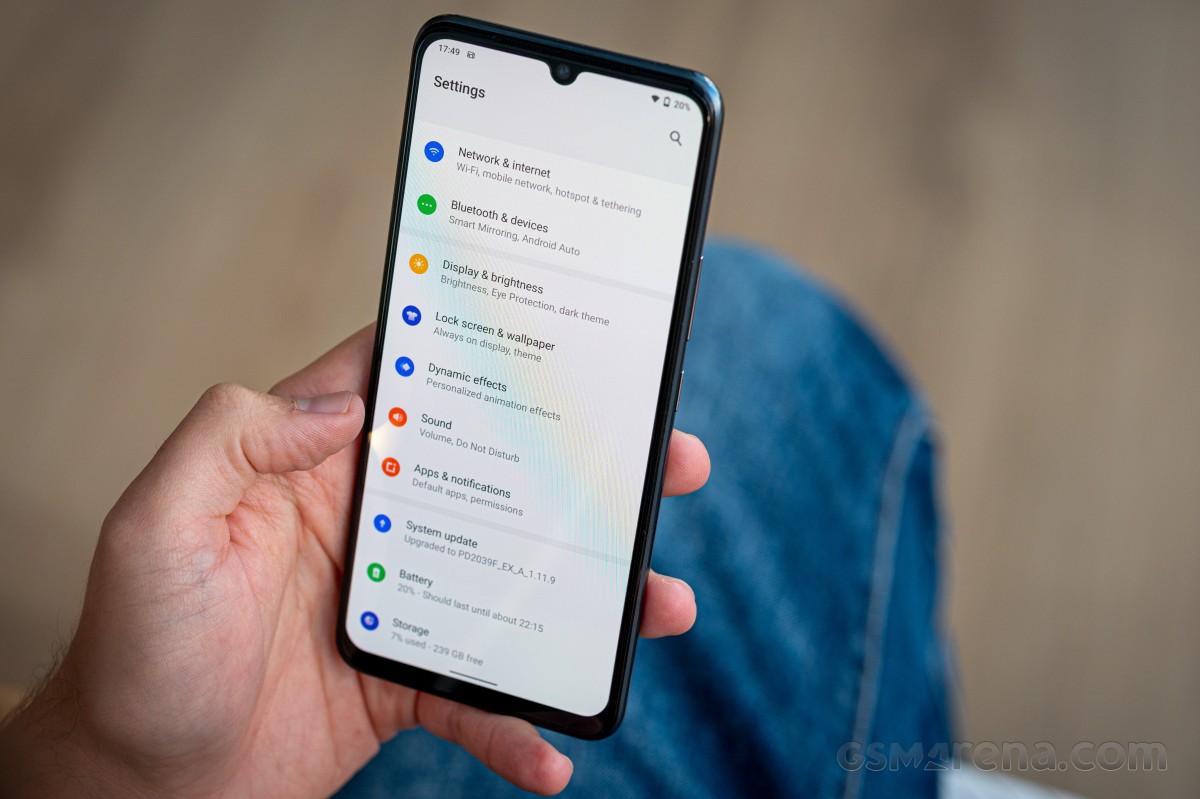 The rather stock-ish nature of FunTouch 11 can be further recognized by the small amount of pre-installed apps. If we don't count the essential ones like the gallery, the FM radio and the Voice recording apps, the rest are negligible. There are compass and level meter apps along with the so-called iManager. It's basically an app that clears the memory cache, analyzes your data usage, does virus scans and helps you keep your storage tidy. All of the features are built into the OS, though, so nothing out of the ordinary.
You have the usual set of navigation gestures with additional quick access to Google's Assistant by swiping diagonally from the lower-left and lower-right corners of the screen.
Since the phone's software is based on Android 11, it offers the Android 11-intrinsic features. For instance, the notifications are now grouped, so your friends' notifications won't get lost in the clutter. In case you've missed anything, there's detailed notification history.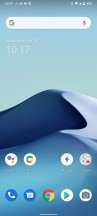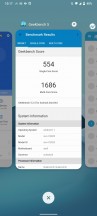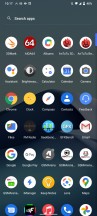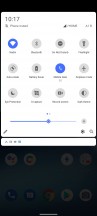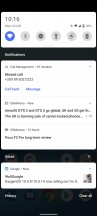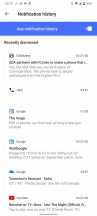 Home screen, recent apps, notification shade and notification history
Other notable Android 11 features include Bubbles (a Messenger-like char heads, which aren't widely supported yet), better permission handling (which was an issue with Funtouch in general), built-in screen recorder, and the power menu has been completely overhauled. Once you hold down the power button, along with the three usual buttons like Emergency calling, Power off, and Restart, there's also the Device controls button - quick and easy access to your home automation and smart devices. What we found a bit annoying, though, is that you should hold down the power button too long before the menu appears.
In case you want to learn about the tidbits regarding Android 11, read our Android 11 review.
Now that we've got the Android 11-specific features out of the way, let's take a look at what Funtouch 11 has to offer. Interestingly enough, we found that most options concern aspects of the UI appearance. You can change the font, mess with the themes, and choose between a handful of Always-on display styles. The Dynamic effects menu lets you change the system animations and effects.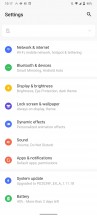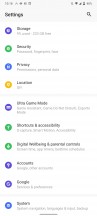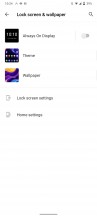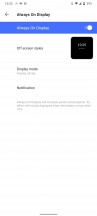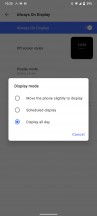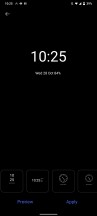 General settings and Always-on display options
The Ambient light effect, for example, lights up the edges of the display for notifications, calls and even lets you choose which apps to trigger the effect. It's not something we haven't seen before - Samsung, OnePlus, and Xiaomi do that, but vivo takes it one step further and lets you choose not only the style but also the duration of the ambient light effect. You can turn this into a substitute for notification LED.
The fingerprint reader is definitely one of the accurate ones, yet not the fastest. We suspect that the chipset is to blame because it takes almost a second for the screen to unlock after the fingerprint is recognized. We can't go as far as saying it ruins the whole unlocking experience, but we feel that there's some room for improvement.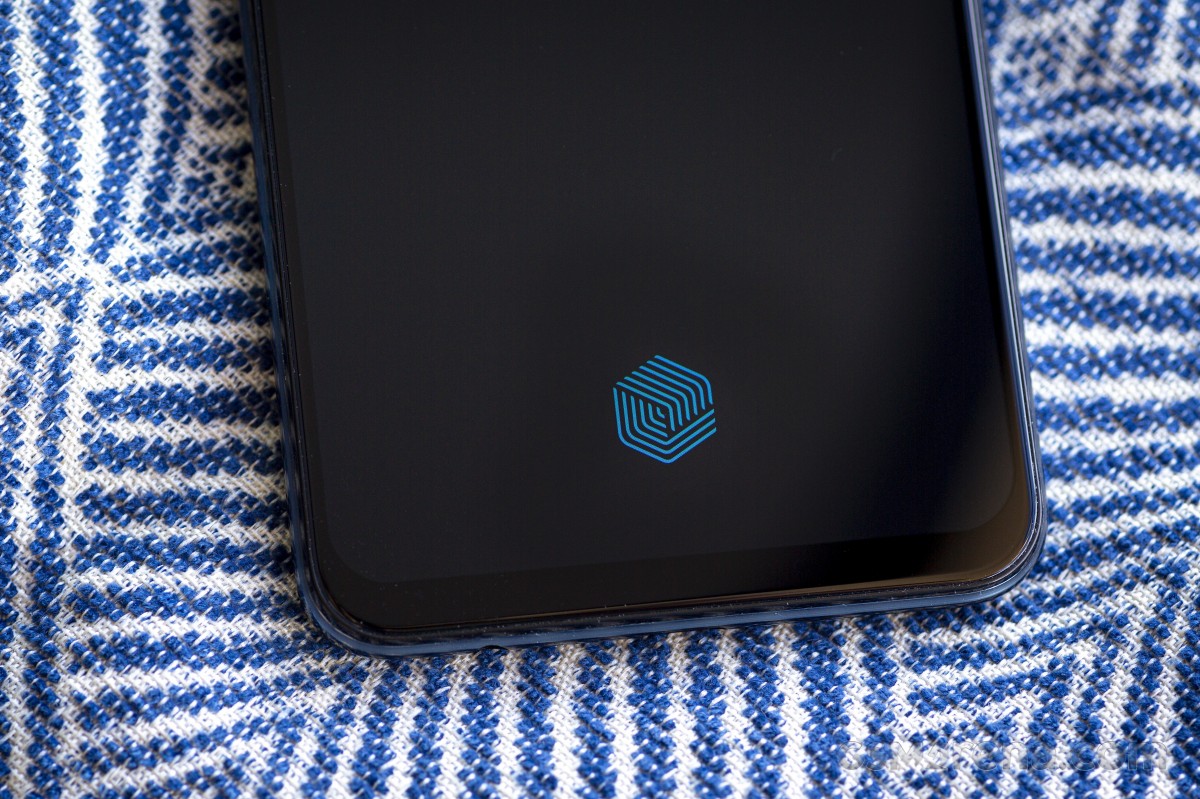 Of course, there are some of you who plan to play games on the V20 and will be happy to hear that there are a handful of useful features that enhance the gaming experience. All the features are under the Ultra Game Mode. There's a sidebar with a list of optimized settings for the current game and another one for quick settings during gameplay.
There are a handful of options to minimize the disturbance during gameplay like blocking notifications and heads-up notifications. Some games may support the so-called Esports Mode that gives a boost to the hardware and also applies an adaptive fresh rate where available. However, we remain skeptical of this feature and suspect that it's just simple interpolation to make up for the lack of frames. Say you are running a game at 45fps, the software will insert additional frames to fill the gap to 60fps. After all, only a few high-end phones actually support adaptive refresh rate and this AMOLED screen doesn't seem to have that option.
Another good idea but rather poorly executed is the 4D Game Vibration feature. Haptic feedback is always neat during gaming, though, it feels nice only when the vibration motor is precise and strong a the same time. We can say that the V20's motor is only the latter. Precision lacks so don't expect much from the 4D Game Vibration option.
Last, but not least, this mode gives you the freedom to turn off the phone's screen while the game is running in the background. This would save an immense amount of juice when playing some types of online or turn-based games.
All in all, we really liked the new Funtouch 11, and it signals a rapid change in how the company is looking at the OS. Going for the more vanilla aesthetics and user experience, vivo might win over more fans in its markets outside China. We were even surprised by the small amount of pre-installed apps on the device. And performance-wise, Funtouch 11 feels smooth and responsive, so no complaints there too.
Performance
The vivo V20 is based on the Snapdragon 720G platform, which in turn is based on the 8nm manufacturing process. It's not the most recent SoC, but it does hold pretty well in 2020 and gets the job done. It uses an octa-core CPU with two core clusters - 2x 2.3GHz Kryo 465 Gold cores and 6x 1.8GHz Kryo 465 Silver cores. An Adreno 618 GPU takes care of the graphically-intensive tasks.
And even though most of its competitors offer greater raw performance, as you can see from the charts below, the vivo V20 manages to outgun them in the memory department. The base memory configuration starts at 8GB/128GB and goes up to 8GB/256GB. That's twice as much as the rivals have to offer.
GeekBench 5 (multi-core)
Higher is better
Realme X3 SuperZoom
2579
OnePlus Nord
1953
Xiaomi Mi 10 Lite 5G
1927
Realme 7 Pro
1811
Xiaomi Mi Note 10 Lite
1694
vivo V20
1686
Samsung Galaxy A51
1294
GeekBench 5 (single-core)
Higher is better
Realme X3 SuperZoom
756
Xiaomi Mi 10 Lite 5G
616
OnePlus Nord
610
Realme 7 Pro
576
vivo V20
554
Xiaomi Mi Note 10 Lite
521
Samsung Galaxy A51
347
AnTuTu 8
Higher is better
Realme X3 SuperZoom
477905
Xiaomi Mi 10 Lite 5G
318117
OnePlus Nord
312794
Realme 7 Pro
278414
vivo V20
276006
Xiaomi Mi Note 10 Lite
253271
Samsung Galaxy A51
175363
GFX Manhattan ES 3.1 (offscreen 1080p)
Higher is better
Realme X3 SuperZoom
65
OnePlus Nord
38
Xiaomi Mi 10 Lite 5G
38
vivo V20
31
Realme 7 Pro
30
Xiaomi Mi Note 10 Lite
30
Samsung Galaxy A51
10
GFX Manhattan ES 3.1 (onscreen)
Higher is better
Realme X3 SuperZoom
56
OnePlus Nord
34
Xiaomi Mi 10 Lite 5G
32
vivo V20
27
Xiaomi Mi Note 10 Lite
26
Realme 7 Pro
25
Samsung Galaxy A51
8.9
GFX Car Chase ES 3.1 (offscreen 1080p)
Higher is better
Realme X3 SuperZoom
41
OnePlus Nord
21
Xiaomi Mi 10 Lite 5G
21
vivo V20
18
Realme 7 Pro
18
Xiaomi Mi Note 10 Lite
17
Samsung Galaxy A51
6.6
GFX Car Chase ES 3.1 (onscreen)
Higher is better
Realme X3 SuperZoom
35
OnePlus Nord
19
Xiaomi Mi 10 Lite 5G
17
vivo V20
15
Xiaomi Mi Note 10 Lite
15
Realme 7 Pro
14
Samsung Galaxy A51
5.6
3DMark SSE Vulkan 1.0 (offscreen 1440p)
Higher is better
Realme X3 SuperZoom
5364
Xiaomi Mi 10 Lite 5G
3080
OnePlus Nord
3067
vivo V20
2451
Realme 7 Pro
2358
Xiaomi Mi Note 10 Lite
2248
Samsung Galaxy A51
1554
The Snapdragon 720G is a competent, fully capable chipset, but it's no match against OnePlus Nord's Snapdragon 765G, let alone Realme X3 SuperZoom's Snapdragon 855+ chip.