Camera and image quality
The vivo V5 comes with a 13MP camera on its back with a f/2.2 aperture lens. On the front, however, is where the real head-turner is - a 20MP Sony IMX376 sensor, aimed to deliver super detailed selfies. The lens on the front has 26mm-equiv. lens with f/2.0, and there is a front LED flash with soft white studio-like light.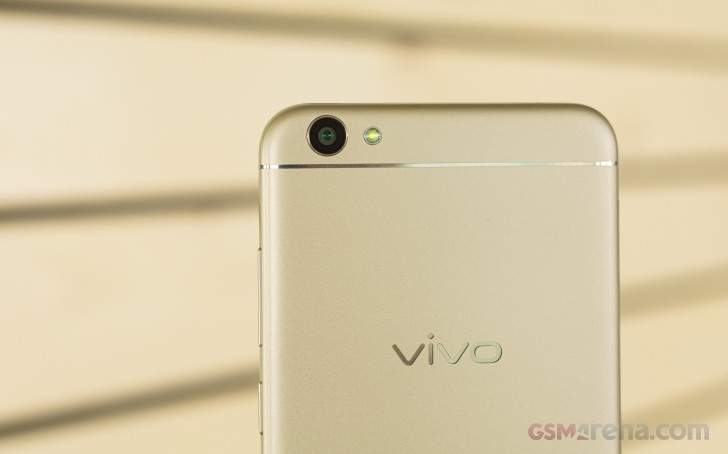 The camera app interface is simple, yet functional and will be familiar to anyone who's picked up an iPhone. Swiping left and right (or up and down in landscape orientation) switches between basic stills, beautification mode, and video. The separate video mode means you get to preview coverage before hitting record, something you can't do when you have a shared viewfinder for stills and video.
The flash toggle, front camera switch, and a mode selector are up top in portrait, so they pretty much require you to use both hands.
Photo enthusiasts will be pleased to find a Professional mode, and it's one of the better-made ones we've seen. It gives you access to a lot of manual controls, including exposure compensation (-2EV/+2EV in 1/3EV increments), ISO sensitivity (all the way up to ISO 1600), shutter speed (as long as 16s), white balance by presets and manual focus.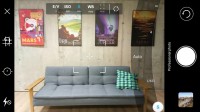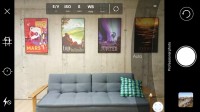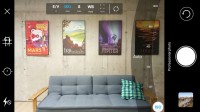 vivo's Professional mode is among the more powerful ones
The V5 captures overall likable photos with sufficient detail, though it is missing some definition in intricate high-frequency detail like foliage. Colors are pleasantly saturated, a little warm too, but in a good way, if you will. There are some traces of noise, but nothing that much to get in the way of fine detail. Dynamic range is decent, and we rarely had to resort to the dedicated HDR mode.
And here are some low-light photos. First, we snapped a handheld photo, and then, we mounted the V5 on a tripod. In either case, the Auto mode produced a grainy shot that wasn't something to write home about. For the final photo sample, we used the Pro mode with a 6s shutter speed, which allowed us to get an excellent night shot - you just need to pack a portable tripod.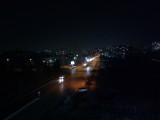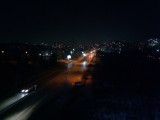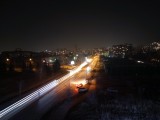 Handheld night sample • Using a tripod • Tripod and manual mode
Our Photo compare tool is a good place to check out how the V5 fares against any competitors in the controlled environment of our test lab. We've pre-selected the Oppo F1s and Meizu M5 Note, but you can pick your own contestants as well.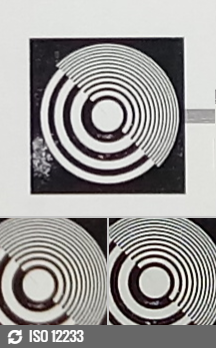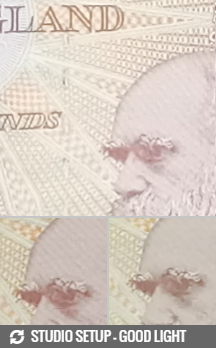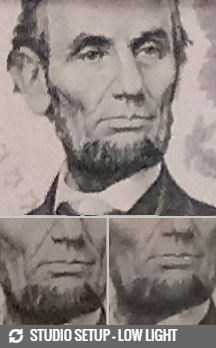 vivo V5 against the Oppo R1s and the Meizu M5 Note in our Photo compare tool
HDR
HDR mode on the V5 doesn't have a dedicated toggle. You can turn it on or off from the Advanced Mode selection. Thanks to the wide dynamic range you may never resort to the HDR mode, but we'd still prefer a proper toggle on the viewfinder.
Vivo's approach to HDR processing is focused on bringing out the lower mid-tones, and preserving highlights, while the absolute darkest shadows remain black. This results in images that still have plenty of contrast, but also more visible detail in the mid-tones.
Panorama
Panoramas are around 1,200px tall, and there's a good amount of resolved detail. There are no visible stitching issues (with stationary subjects), and exposure is even across the frame.
Selfie camera
We'd go ahead and call the 20MP front facing shooter of the vivo V5 its primary camera. The sensor is an IMX376, which is available only on the V5 (for now). It's 1/2.78" big with 1.0µm pixels, and f/2.0 lens.
If you'd expected stunning selfie shots, we'd have to disappoint you. The resolved detail in the 20MP selfies is rather mediocre, the focus is a hit and miss, and the beautification effects are often a disaster (but we might not be the prime target for that feature in particular).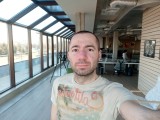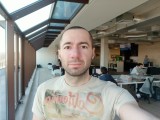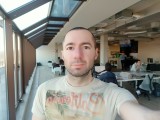 Normal 20MP selfie • Beauty at 50% • Beauty at 100%
On a positive note, the colors, contrast, and even the dynamic range, are quite good, and we liked the shots we took. Don't forget these are 20MP images - once you downscale the selfies down to 5MP you'd get some excellent pictures.
The fill light is useful too. This shot below was taken at our studio in the same lighting used for the lowlight shot in the Photo compare tool - a dim 28lux environment. The result is not super sharp, but it's noticeably better than the shot without a flash.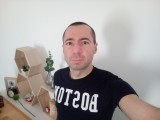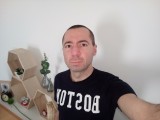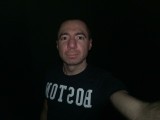 Selfie without the fill light • Fill light on • Fill light in our pitch dark black-painted studio
Video camera
The vivo V5 shoots videos in up to 1080p resolution at 30fps. There's no 60fps smooth motion mode. All videos from the V5's camera are captured in an MP4 container. The video bitrate is about 17Mpbs, and the framerate is stable. The audio recorded in the video is stereo - it uses an AAC codec with 128 Kbps bitrate and 48 KHz sampling.
The resolved detail is rather poor, but the contrast and colors are fine. Here is a sample we've uploaded on YouTube.
You can also download this 1080p@30fps (9s, 18MB) video sample taken straight off the vivo V5.
If you'd like to compare the V5's video camera to some other phones, head over to our Video Compare Tool below.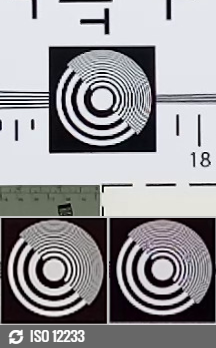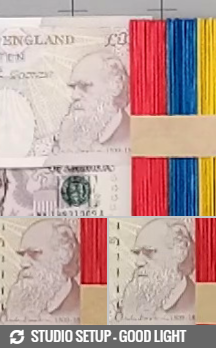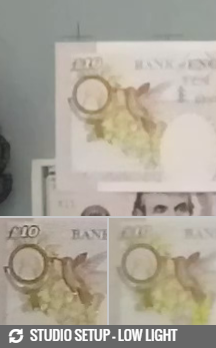 vivo V5 against the Oppo R1s and the Meizu M5 Note in our Video compare tool