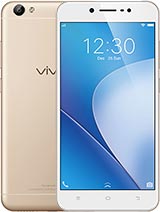 m
such a great phone but not satisfied with screen resolution and density.cannot play 4k format video and picture and display quality not good as vivo xshot before.ram and processor act well.only not satisfied with the screen resolution not ultra hd
l
Wai, 25 Jan 2017In Malaysia got model Y66 with same specs. Is it the same?Same spec, start selling RM999 now.
s1
this phone is chinas rising star. it has premium build and feel. i will buy one of it soon. thanks vivo engineers
?
I noticed that gsmarena never reveal oppo & vivo phones cpu, if it's overpriced and coming with a outdated one..
Even, their advertisements won't reveal it too..

Total of 167 user reviews and opinions for vivo V5 Lite.