We reported that vivo is planning to rebrand its FuntouchOS interface to Jovi OS, and we even saw a smartphone with the pre-launch version of the UI. Sadly, further development and launch are on hold, after an announcement from the Project Manager of the UI department at vivo.
The executive took it to Weibo where he announced that "after continuous discussion" between the teams at the vivo HQ, the team eventually decided to suspend the renaming plan. A new version of FuntouchOS will be revealed on December 16, when the vivo X30 series will be announced.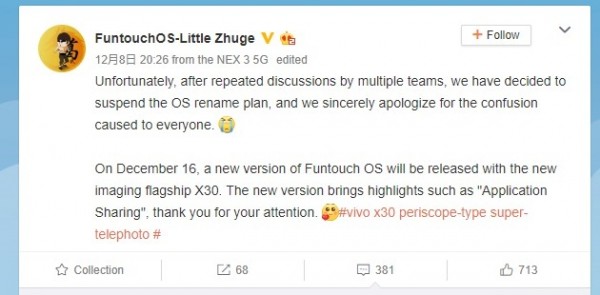 The machine-translated message from the FuntouchOS Project Manager
The smartphone company might be postponing indefinitely the idea to rebrand its in-house Android-based OS, but the vivo X30 development is fully underway. A video, posted by the manufacturer, gave us an idea of how a smartphone is built. According to the info, over 100,000 units are manufactured every day.
This 70-second clip showcases the determination in the Dongguan-based manufacturer to flood the market with its new upper midranger. The vivo X30 is expected to come in a vanilla and Pro versions, and we are likely to see the first phone, powered by the Exynos 980 chipset by Samsung that comes with an integrated 5G modem.
In tow are also a main camera with a 64 MP sensor and a periscope telephoto lens that should allow for up to 60x digital zoom. The final unknowns like pricing and availability should be revealed next Monday at the official unveiling.
s
sucked at writing songs and sucked at software design. at least i heard his community restaurant chain is good with charity. sorry. just making fun of the os name. "Your love is like bad medicine Bad medicine is what I need, whoa Shake ...
I
Good decision, Funtouch still sounds much better than a completely random "Jovi". This is not about the name, they rather should work on the quality of their OS. Just renaming it doesn't make it any better.
L
Vivo needs to copy Oxygen OS. They're probably the most innovative company with their NEX series and they need a software that largely compliments that. Color OS is shaping to be a great UI now. For the time being, Funtouch OS is the worst UI ov...
ADVERTISEMENTS