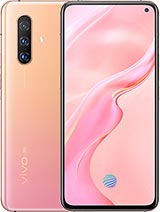 J
Hold on a minute, the main camera for this version has OIS but the X30 Pro version doesn't? Or is that just a typo where both of them either has or hasn't got OIS in the first place?
D
BD9T, 17 Dec 2019Exynos 980 (8 nm) or SD765G which one is better?Exynos 980 is better when it comes to CPU & 765 is better for GPU. Both are really close, actually 980 is slightly better overall.
749
182
BD9T, 17 Dec 2019Exynos 980 (8 nm) or SD765G which one is better?I think exynos 980 is a quite good mid range processor but I have to give it to the 765G
6781
2398
kinit, 18 Dec 2019Overpriced If you want it cheap, go to Xiaomi. You come to the wrong place.
A
Better go for oppo reno 10x zoom with snapdragon 855. For me exynos is so bad
A21
like always no wirelless charging vivo... no reverse charging vivooo... no ip standard waterproof .... no ufs 3.0 ...😑
6781
2398
The only reason that I can think of on why anyone would pick this over the Pro variant is that 5x optical zoom still sounds a bit of an overkill for a smartphone camera. That said, there are people who really do think of that and considering that the omission of 13MP periscope 5x zoom camera is THE ONLY difference, this isn't a shabby variant. For once, I never see a phone with two different variant that shares the same exact spec to one another, but only differs on a certain feature that not all people would want to have in the first place. Kudos to vivo for making a sensible lineup.
Total of 14 user reviews and opinions for vivo X30.
ADVERTISEMENTS