Final words
The third slimmest smartphone in existence, the vivo X5Max turns out to be a multidimensional performer. Sure, its claim to fame lies in its upmarket design, which we need to be really picky to find fault with. The execution is top-notch as well, and the smartphone is working hard to justify its price tag, though of course you need to be willing to accept the premise that style and build are worth a premium.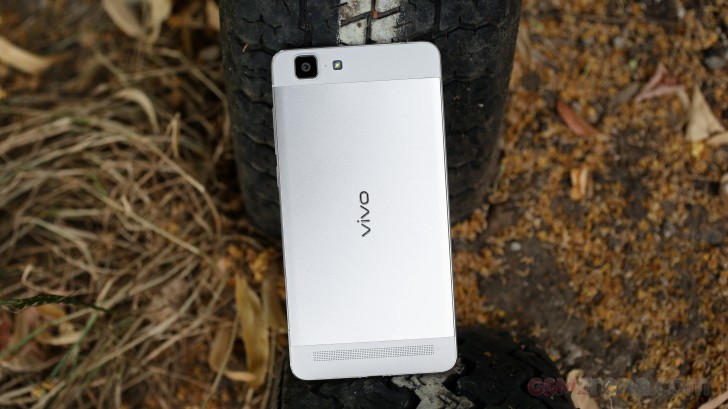 Believe it or not, this nearly paper-thin smartphone excels in battery life, of all areas. If you steer clear of the proprietary browser, you're in for a pleasant surprise in terms of uptime. An endurance rating around the 70-hour mark is the summary of a balanced performance in all areas, both active on-screen time and standby.
The 5.5-inch FullHD Super AMOLED is another excellent performer scoring high in the brightness department, for a Super AMOLED that is. It's sharp, has lively colors and only exhibits a slight green tint when viewed from an angle.
Funtouch OS is perhaps a little controversial. Some will embrace the fresh-looking Android skin with its customization options and nifty gesture controls. Others won't be able to get over how disorganized it is and the strong iOS influence will certainly bother Android purists. It may also be hard to swallow the fact that you're buying into a year-old OS release.
Granted, hardware performance isn't the X5Max' strong suit. Vivo apparently held back a little when tweaking the chipset and that may have something to do with the great battery numbers, but we don't see much fault with such a bias, certainly not in the case of the X5Max.
The 13MP camera creates images with a lot of detail, but also plenty of noise, though we appreciate the conservative approach to noise-suppression. True-to-life colors and dependable exposure round up a good overall experience in terms of stills, while 1080p videos are decent at best.
Key test findings:
Premium looks, amazing thinness, quality materials and solid build
Sharp 5.5-inch FullHD AMOLED display, vibrant colors, good viewing angles with a slight green tint, above average AMOLED brightness
Dual-SIM dual-standby capability, otherwise average connectivity package
Excellent battery life: 71-hour rating with a single SIM inside and stellar individual numbers
Quirky Funtouch OS takes a bit of getting used to, but is rich in customization and added functionality; the bundled app package only covers the basics, but does it well; the gallery has a rich editor, video player ran everything we threw at it, music player is straightforward and functional
Raw performance fails to impress, likely due to poor software optimizations
Very good photos with nice detail and good color rendering, but there is a lot of noise
Okay 5MP selfie cam, images a touch too soft
Video recording is passable, but nothing memorable
Impressively clean audio output both with headphones and external amplifier, very loud too
The Oppo R5 is among the most obvious rivals of the vivo X5Max. Fractions of a millimeter are for bragging rights only, and where it matters, the smaller-screened 5.2-inch R5 loses by a country mile - for every full battery charge on the X5Max you'll need to do two on the R5, and no fast charging tech will offset that.
Then there's the Oppo R7, a more balanced offering where battery endurance is not such a limiting factor. You'd be sacrificing even more screen real estate here, as the R7 is only 5.0 inches in diagonal. We'd be hard-pressed to pick the best of these three in terms of build and finish, but there's something about the 2.5D glass of the R7, which may tip the scales in its favor.
The Samsung Galaxy A7 has a marginally smaller footprint, and at 6.3mm is not exactly thick either. It's also substantially lighter and has a slightly better battery life, even on top of the already excellent X5Max. The Galaxy A7 has already gotten the Lollipop update, while the X5Max may never live to see one.
The LG G Flex2 is being heavily discounted in many parts of the world, despite the fact that it's rocking proper flagship hardware. You could easily snatch one for even less than the X5Max, and the dramatically curved 5.5-incher has a lot of appeal for the style-conscious too. The G Flex2 has a superior OIS camera, laser autofocus and 2160p video recording.
The Meizu MX4 Pro is worth a look as well. Yes, it's roughly twice as thick, but it's cheaper, its 5.5-inch display has QHD resolution, its camera can shoot 4K video, and it will significantly outlast the X5Max if you're mostly into web browsing. It also has a fingerprint sensor. But did you go on reading after we said twice as thick? The newly released MX5 is in the picture too, and it's thinner, while retaining most of its predecessor's virtues, save for the QHD resolution.
Older flagships are also within reach of the buyer ready to pay the vivo X5Max' asking price. The Sony Xperia Z2 is one that comes to mind. Although two-generations-old already, the Z2 can easily outperform the X5Max, and has environmental sealing and better battery backup. It does have a smaller screen though, and is just another mainstream device, unlike the X5Max.
There's a lot to like about the vivo X5Max, in fact it must be one of the more pleasant surprises recently. It can't outgrow the limitations of its chipset paired with less than perfectly optimized software, and Funtouch has a long road to maturity. But it has a beautiful display, it shoots fine images and scores high in the most unexpected area, battery life. The X5Max is another fine phone to help overcome prejudice against Chinese designs but also one that argues premium looks do not necessarily imply usability compromises.