Phonebook
The phonebook app on the vivo X5Max is called Contacts and follows the general styling of the rest of the interface, meaning it's entirely custom. There are tabs, but unless you are big on groups, or want to jump to the dialer or to your personal info page all the time, chances are you won't be using them too often.
The main interface is a well-organized list, with favorite contacts at the top, followed by an alphabetical run-down of the rest. Naturally, there is a search field, which accepts both names and numbers, as well as a vertical slider, along the letters to the right, for quick navigation. There are no contact pics on this screen though, with vivo opting to fit more but thinner rows.
Adding a new contact is a pretty straightforward process. It begins by selecting where you would like to store the entry, or you can just set a default the first time you use it. The rest is fairly self-explanatory.
Viewing a contact is done through a clean and well-arranged interface. All in all vivo has tried to keep things as simple and intuitive as possible.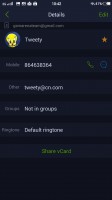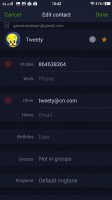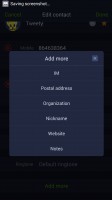 Viewing and editing a single contact is straight-forward
Telephony
The default telephone app in the vivo X5Max is in keeping with the overall style, just like the contacts. In fact, they almost look like they are both part of the same application, especially thanks to the pretty sliding transition effect between them. But they are very much separate, despite being linked to one another through a quick shortcut.
The intuitive contact searching system is implemented here as well. You can start typing a number or a name and the phone will find the contact you are looking for. In-call options are mostly standard, with the exception of the notes option, which is quite handy when you want to write something down during a call.
The X5Max call quality is top-notch. Sound was nice and clear on both ends and the phone held on to signal well. The noise cancellation system works effectively to provide good background noise suppression.
The loudspeaker volume of the X5Max isn't very high. In out tests, it scored below average, much like the vivo Xshot before it. The sound isn't particularly loud, but in terms of quality, it is excellent. That won't help you much in noisy environments though, so keep an eye out for notifications.
| | | | | |
| --- | --- | --- | --- | --- |
| Speakerphone test | Voice, dB | Pink noise/ Music, dB | Ringing phone, dB | Overall score |
| vivo X5Max | 66 | 61.7 | 68.8 | Below Average |
| vivo Xshot | 61.7 | 64.7 | 72.3 | Below Average |
| Apple iPhone 6 Plus | 67.3 | 65.7 | 66.5 | Below Average |
| Oppo R7 | 65.6 | 66.5 | 73.1 | Average |
| HTC Desire Eye | 65.7 | 65.3 | 74.2 | Average |
| Lenovo Vibe X2 | 66 | 67.7 | 71.8 | Average |
| Oppo R5 | 66.6 | 66.2 | 75.3 | Good |
| Huawei Ascend Mate7 | 66.7 | 65.7 | 75.7 | Good |
| Gionee Elife S5.5 | 66.6 | 66.3 | 75.7 | Good |
| Oppo N3 | 68.2 | 65.8 | 75.7 | Good |
| Oppo Find 7a | 71.7 | 66.6 | 75.7 | Good |
| Oppo N1 | 73.7 | 67.7 | 78.7 | Very Good |
| Nokia Lumia 930 | 76.7 | 69.7 | 77.2 | Very Good |
| Xiaomi Mi Note | 75.9 | 68.9 | 83.3 | Excellent |
| OnePlus One | 74.8 | 73.5 | 80.2 | Excellent |
| Meizu MX4 Pro | 76.9 | 73.6 | 82.7 | Excellent |
Messaging and text input
Aside from the ever-present Google Hangouts, you also get vivo's own messaging app. It unifies SMS and MMS functionality in one place, which has pretty much become the norm with modern devices. The app does offer the option to import old messages, which is a rare thing to see and can definitely be useful. Messages can be restored from either a cloud service or simply from local storage.
To handle emails the X5Max offers Gmail preloaded, obviously, as well as a dedicated email app. This is kind of redundant, seeing how the latest version of Google's mail client can now work with any mail account, Google or not, and is now the only email client you will need.
If you enjoy the consistency of using all Funtouch apps though, the built-in email client can work with web POP3 accounts alike. A button to start a new message sits at the top right of the app. The composition screen holds no surprises.
In terms of text input, the vivo X5Max comes with a custom keyboard solution, courtesy of Swype. Like the name suggests, it does support swipe typing and looks and behaves quite nicely. It also offers a lot of options, like a personalized dictionary, theme support and quite a few gestures for accessing various features.