Web browsers
The vivo X5Max comes with Google Chrome as well as a custom browser. Its interface definitely looks nice, and like everything else in Funtouch, fits well into the general design outline. The tab selection interface is similar to a desktop browser and eats away screen estate, so it's great that it can be hidden with a toggle in the bottom right corner.
As we mentioned in the battery section, the main disadvantage of the vivo browser has to be its inefficiency, and that really makes it a distant second choice.
Thankfully vivo has included Google Chrome in the mix. It is becoming the most popular mobile browser and should be fairly familiar. Thanks to your Google account, Chrome can sync the tabs you have open on other devices (desktops, tablets) with the phone. This feature also syncs your bookmarks and favorite sites and can remember passwords and login data across different platforms.
Other pre-installed apps
Vivo has kept things pretty clean in terms of preloaded applications and, besides the nowadays obligatory Google suite, there is quite little preloaded software. Also, the things that are included in the mix are generally well executed, nicely styled and even, quite convenient.
First up, Funtouch OS has an amazing central management hub, called iManager. It is designed to keep your phone in top shape and generally does a pretty good job of it. It can clean your RAM and storage on request and naturally manage applications.
But the software goes beyond this and is quite clever. For one, it has access to some advanced hardware features on the X5Max and can influence general performance and power-management through different modes. It also offers black-lists for both calls and messages and can even protect you from pesky applications. Once it detects that a certain app is requesting a permission it dubs kind of intrusive, it warns you with a popup.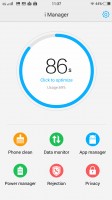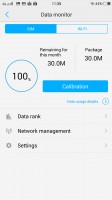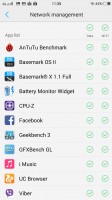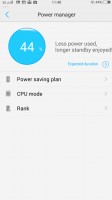 iManager app is pretty powerful
The vivo X5Max comes with WPS Office (Previously Kingsoft Office) preinstalled. It's a pretty powerful office editor, though the included version is the one prior to the major interface redesign. The app can handle Word docs, PDFs, Spreadsheets and Presentations. It can link to cloud storage, email files, and create a shared view with other users and more. There's editing enabled, too, so you can get some work done on the go, if need be.
Most of the other bundled apps have nothing really spectacular to offer, except, perhaps, slick looks. The calendar is straightforward. It can seamlessly sync with your google account and naturally has events, reminders and all of the standard week, month and daily views, but also a year view.
Moving on, we find that vivo has created a quite feature-rich notes app. Entries can contain multimedia, as well as reminders, which get automatically entered into your calendar. The app even lets you doodle on screen for a quick note.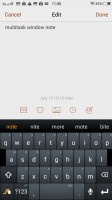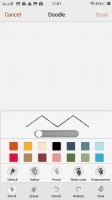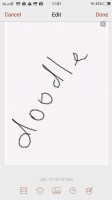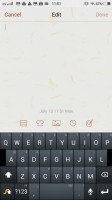 Feature-rich notes application
Other things that deserve an honorable mention are the sound recorder and the calculator, which has a nice scientific view in landscape.
The phone comes with a very intuitive file manager. It automatically groups things according to type, but also allows traditional folder browsing, as well as searching. What it lacks is multiple file actions.