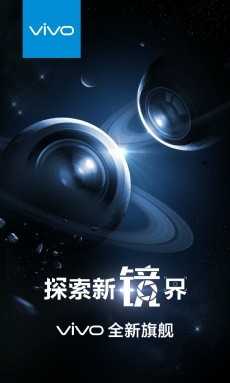 Today vivo has outed its first teaser for an upcoming smartphone that the Chinese rumorsphere has labeled as being the X9. This should succeed the X7 in the company's portfolio, even though that model was only made official four months ago. Things move fast in the competitive Chinese smartphone market.
The teaser in question, which you can see to the left, doesn't mention the yet-to-be-announced device by name. It does however confirm that it will have a dual camera setup. If this is the X9 we're talking about, then there's been an intriguing possibility rumored - namely, for it to have four cameras in total, sporting dual cameras on both the front and the back. That would probably be a first, but it remains to be seen whether this pans out in the end.
The vivo X9 is said to become official at an event on November 17, so there's still plenty of time for its maker to out additional teasers confirming other specs too. In the meantime, here's a quick recap of what's been leaked and rumored.
The X9 should be powered by Qualcomm's new Snapdragon 653 chipset, aided by 4 or 6GB of RAM and 64GB of built-in storage. The chipset is the successor to the 652 that's in the X7, which makes perfect sense. As for the rear camera situation, one of the units could be Sony's IMX260, which you may know from Samsung's Galaxy S7 line. We'll hopefully find out more about the vivo X9 in the near future.
L
Apple shows them how do it right lol Its more like everyone tells apple how to do something
D
Huawei and LG did it before Apple and they are not junk. Huawei probably has the best implementation, better than Apple.
?
Finally, i found someone who know the truth is. #approved!
ADVERTISEMENTS