Synthetic benchmarks
The Vivo Xplay5 Elite is fully tricked out in the hardware department. And it's not just the mighty Snapdragon 820 chipset we're talking about, no - the smartphone is one of the few members of the (well...) elite 6GB RAM club.
Other members include some versions of the OnePlus 3, LeEco Le Max 2, Asus Zenfone 3 Deluxe, ZTE Axon 7 and ZUK Z2 Pro. Our OnePlus 3 review unit did indeed come with as much operating memory, but not the Le Max 2 we tested, and the other models we're yet to experience first-hand.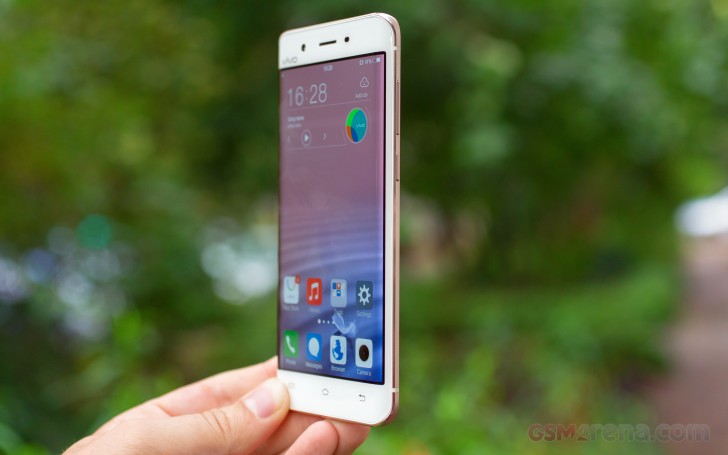 Plenty of Snapdragon 820s already in our benchmark database, though, so we're not short on options for comparison. There's an Helio X20 and an X25 too, plus the odd Kirin and Exynos 8890, so we can get a pretty good picture of where the Xplay5 Elite stands in terms of raw power.
Kicking off with a CPU-focused test, GeekBench puts the Vivo in the middle of the pack when it comes to multi-core performance. It's the Kirin 955 inside the P9 that leads the way, closely followed by the Helio X25 in the Meizu Pro 6 and the Samsung Galaxy S7 with an Exynos 8890. Some 1000 points below the Snapdragon 820s come, very tightly spaced, with the Vivo showing about average results.
GeekBench 3 (multi-core)
Higher is better
Huawei P9
6558
Meizu Pro 6
6427
Samsung Galaxy S7
6360
Zopo Speed 8
5543
OnePlus 3
5520
Sony Xperia X Performance
5460
Vivo Xplay5 Elite
5437
Samsung Galaxy S7 edge (S820)
5420
LG G5
5362
Xiaomi Mi 5
5358
HTC 10
5257
LeEco Le Max 2
5026
When it comes to single-core performance, the Xplay5 Elite moves up the flagship ladder a little bit, but mostly due to the lower numbers of the non-S820 models. Among its peers with Qualcomm's high-end silicon, the Elite is again in the middle.
GeekBench 3 (single-core)
Higher is better
OnePlus 3
2383
HTC 10
2368
Samsung Galaxy S7 edge (S820)
2345
LG G5
2328
Vivo Xplay5 Elite
2322
Xiaomi Mi 5
2305
Sony Xperia X Performance
2273
Samsung Galaxy S7
2170
LeEco Le Max 2
2118
Meizu Pro 6
1905
Zopo Speed 8
1834
Huawei P9
1819
In Basemark 2.0, which sums up an extensive number of tests including CPU, memory, and storage, the Elite posts excellent numbers, but then so does the competition. Vivo's flagship scores virtually identical to the Xperia X Performance and Xiaomi Mi 5, all three of them somewhat behind the Snapdragon version of Samsung's current flagship and the OnePlus 3.
Basemark OS 2.0
Higher is better
OnePlus 3
2365
Samsung Galaxy S7 edge (S820)
2352
Xiaomi Mi 5
2180
Sony Xperia X Performance
2179
Vivo Xplay5 Elite
2175
Samsung Galaxy S7
2128
Huawei P9
2068
LG G5
2065
LeEco Le Max 2
2063
Meizu Pro 6
1919
HTC 10
1839
Zopo Speed 8
1227
Antutu tells a slightly different story, one that puts the Vivo Xplay5 Elite in a more favorable light. Neck and neck with the OnePlus 3, the two are only second to the HTC 10. The rest of this year's cream of the crop are ranked lower. Now had it not been for the HTC 10, we could have reasonably deduced that 6GB of RAM does indeed make a difference. Well, it apparently does, but there's more to it, as the Taiwanese flagship can attest.
AnTuTu 6
Higher is better
HTC 10
154031
OnePlus 3
141764
Vivo Xplay5 Elite
140871
LG G5
134541
Samsung Galaxy S7 edge (S820)
132849
Samsung Galaxy S7
132084
Xiaomi Mi 5
131758
LeEco Le Max 2
129461
Sony Xperia X Performance
116217
Meizu Pro 6
99195
Huawei P9
98069
Zopo Speed 8
90137
On the graphics front the Adreno 530 is a proven top performer, even when it needs to deal with QHD resolution as is the case with the Vivo Xplay5 Elite. In fact, the score in Basemark X is the highest we've seen.
Basemark X
Higher is better
Vivo Xplay5 Elite
35180
LeEco Le Max 2
33874
Xiaomi Mi 5
33110
OnePlus 3
32715
Samsung Galaxy S7
32345
Samsung Galaxy S7 edge (S820)
32160
LG G5
29456
HTC 10
28882
Sony Xperia X Performance
28450
Huawei P9
16942
Zopo Speed 8
15756
Meizu Pro 6
15209
In the OpenGL 3.1-enabled Basemark ES 3.1 the Elite returns from exceptional to average for this esteemed selection. The humble Huawei P9 is the last in this test, and the Vivo outpaces the Xperia X Performance and Le Max 2, with the Mi 5 and G5 in its crosshairs. The OnePlus fares better in this test, but it's no match for the Galaxy S7 and its 12-core Mali GPU.
Basemark ES 3.1 / Metal
Higher is better
Samsung Galaxy S7
732
OnePlus 3
625
Samsung Galaxy S7 edge (S820)
624
LG G5
587
Xiaomi Mi 5
580
Vivo Xplay5 Elite
574
Sony Xperia X Performance
551
LeEco Le Max 2
517
Huawei P9
341
In GFXBench the strong results continue, with the obvious note that due to the QHD resolution onscreen tests will inevitably produce lower frame rates than the standardized 1080p offscreen runs. A frame per second here and there splits the S820/Exynos 8890 rivals, and the other chips are not quite in the same league.
GFX 3.0 Manhattan (1080p offscreen)
Higher is better
Samsung Galaxy S7 edge (S820)
49
HTC 10
47
LG G5
47
Vivo Xplay5 Elite
47
OnePlus 3
46
Xiaomi Mi 5
45
LeEco Le Max 2
44
Sony Xperia X Performance
41
Samsung Galaxy S7
38
Huawei P9
18
Meizu Pro 6
18
Zopo Speed 8
14
GFX 3.0 Manhattan (onscreen)
Higher is better
OnePlus 3
45
Xiaomi Mi 5
43
Sony Xperia X Performance
38
Samsung Galaxy S7 edge (S820)
29
HTC 10
28
LeEco Le Max 2
28
LG G5
28
Vivo Xplay5 Elite
27
Samsung Galaxy S7
27
Huawei P9
19
Meizu Pro 6
18
Zopo Speed 8
12
GFX 3.1 Manhattan (1080p offscreen)
Higher is better
Samsung Galaxy S7 edge (S820)
32
HTC 10
31
OnePlus 3
31
Vivo Xplay5 Elite
31
Xiaomi Mi 5
30
Sony Xperia X Performance
30
LG G5
30
Samsung Galaxy S7
28
LeEco Le Max 2
28
Meizu Pro 6
11
Zopo Speed 8
11
Huawei P9
10
GFX 3.1 Manhattan (onscreen)
Higher is better
Sony Xperia X Performance
31
OnePlus 3
30
Xiaomi Mi 5
29
Samsung Galaxy S7 edge (S820)
16
HTC 10
15
LeEco Le Max 2
15
Vivo Xplay5 Elite
15
Samsung Galaxy S7
15
LG G5
15
Huawei P9
11
Meizu Pro 6
11
Zopo Speed 8
11