The Vivo Xplay 3S is rumored to be a venerable Galaxy Note 3 killer with a 5.5" 2,560 x 1,440 display, Snapdragon 800 with 3GB RAM and a USB 3.0 port. Other rumored specs include a camera of unknown resolution with an f/1.8 aperture and 4G LTE connectivity.
Leaks of the phablet have been lacking in the spy shot department, but an invite to a launch party indicates we'll be seeing the real thing soon enough – the Vivo Xplay 3S will be unveiled on December 12.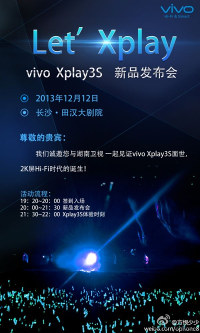 The invite to the Vivo Xplay 3S unveiling
The invite, of course, is mum on the technical details, but if the rumors pan out, the Xplay 3S will be the first pocketable device with a QHD screen (Quad HD, 4x 720p).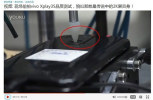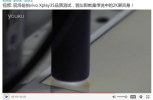 Making the Vivo Xplay 3S, or something else?
There are some screenshots of a video allegedly showing the manufacturing process of the 3S, but they don't reveal anything, unfortunately.
C
How would screens with the same size and different resolution have the same PPI?
D
I also have Nokia N9 which has 251 ppi, when I look at it from the normal-phone-viewing distance, I dont see the pixels, they are visible when I look at it really close, but that is not the comfortable distance. Note 3 have 386ppi, and no matter how ...
D
Please read this article, perfectly explains it all: http://gizmodo.com/5960191/techs-new-most-meaningless-spec-ppi