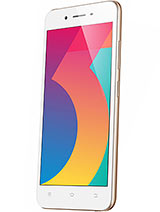 M
This VIVO Y53i is considered as an adorable type of phone. Pictures are okay and internet speed is fine too.
G
Purchased it from a small shop in Pune, the big shops dont stock this as it is a budget phone. I basically wanted a 4G budget phone especially for hotspot usage. This is doing just fine, internet speed is excellent, the pictures are good. I have nothing to complain so far, it never hangs - all depends on the user. I would recommend to buy.
j
53i is not a bad phone. I never had hanging problem. As the memory available for user is less, it is likely to hang , if available memory is used fully.
P
VIVO Y53i is not a usefull phone its so many time hanging problume nd most important picture quality of front is very low. if did you want to campare this phone to any china phone i 90% sure china will provided more better than its...............iam totally unstatisfied to buy this phone
P19
This Phone has no difference with Vivo Y53 in terms of specs only if vivo updated the Y53i from 6.0.1 Marshmallow to 8.0 or 8.1 Oreo there would be more speed. The face unlock on Y53i is not new on Y53 the funtouch 3.0.10 is a face unlock update so its still no changes no Update change no CPU change only if its powered by Snapdragon 430 or 435 or much better 450 but same price also if there's a battery upgrade more mAh its would be special but nah still the same so if u have Y53 don't upgrade to Y53i much better if u upgrade to Redmi 5 it would be better

M
why phone vivo y53 I now the more often lagging .. it's his are not so smooth all system in the phone vivo y53 .. please help me to return the system phone vivo y53 I like the first period during my new buy ..
M1349164
I haven't seen big bezels in a phone is a long time! Oh the fond memories...
Total of 11 user reviews and opinions for vivo Y53i.