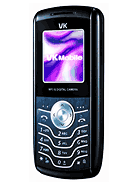 ?
Copy or not if was better, them cheat...

Motorola is bigger and heavy... This model wasn't the best but it's price, Here in Portugal 100Euros is a good choice... By the way vk-2010 (139,90) and 2020 (219,90)
b
there's a difference between innovation and copying.. copying is "CHINA".. innovation is like inventing ABS for planes and now being acquired for cars. innovations for the design is good to make things better than the original.. get it?
?
Ok really if you think this is a copy you are retarded. That is like saying a flip phone is a copy of another flip phone. Its just stupid. Besides this phone is way different. Its smaller and the feel is way different.
t
Actually Ahmad Faris, if you look into the specs, this phone will sit squarely between the L6 and the L7 in terms of spec, just without bluetooth. The large memory (you get similar out of the box with the L7s bundled t-flash card) and an undoubtadley lower price than the L6 will make this a strong budget phone, ideal for prepay.
Not happy with the screen on this one though 128x128 cstn. It's a little lacking really.
L
Use the same style doesn't mean that is a copy. This is an alternative phone that I'm considering to buy because I'm tired of get my pocket filled with a big and heavy phone that have a lot of functions which I don't need for my all-day life.
j
VK announced the VK2000 (this phones predecessor) before the L7.
A
I have a big disagree with u 'user'.Dis VK 200 is copying da motorola L6 &L7.(Mostly L7).But dis Vk200 still doesn't have a great feature.(Ha,ha,ha,ha,ha,ha,ha,ha,ha,ha,ha,ha)
u
I think VK is doing a good job in this area. This is not consider stealing but is enchanced design. In my personal opinion, current market,lots of product are similar design. Only those baboon that stay in jungle will use the word 'steal'.

?
the Vk mobile phone is copying motorola SLVR L7 soo much the thiness and the etched key pard...FUK!
M
OMG, this stupid brainless insane crazy dumb VK thingy copied motorola SLVR.
Total of 254 user reviews and opinions for VK Mobile VK200.