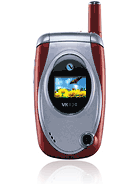 ?
i got the lilac one a few weeks ago but sometimes it turns itself off, and when i read my messages sometimes it comes up with 'error'! so i have to turn it off and back on again!
N
The phone is pretty but i have problems with the msg it deletes them as i write um and have to turn it off and back on again! I had to return it as i can not read my msg without it turning off it is rubbish!
k
im not really impressed...i like the colour but thats it. When you recieve a text it doesnt say who its off, until you come out of text and look in inbox list.
also to charge you have to remove a very small piece of rubber to plug in charger....what are you supposed to do with such a small component, besides lose it....dont buy one!

S
i love my phone, had it about 3 weeks, it does delete the txt every now and then but who has ever bought a phone that didnt have problems, it doesnt stop me using it and all i have to do is turn it off then back on.
H
The camera looks great but you cannot download ringtones and the battery runs out too quick - 12 hours. Are other people having this problem?
l
hi my friend has this . she got it 4 x mas and hers isnt having problems so far......i should warn her :D
C
I got a lilac vk 530 for christmas and ive been having troubles with it for ages the other day the screen went totally blank and nothing comes up on it. plus half way through texts it starts getting rid of what your writing also the phone turns itself off when i have full battery. DON'T BUY ONE
S
I got one of these for Christmas - straight away I found that it wouldn't hold numbers in the phone. Took it back to the shop - they said they'd had about 200 with this fault, but as they didn't know which ones they had sent them out anyhow!They put it right while I waited. A week later I realised that it was going flat every other day, even though it was hardly being used. It was away for 2 weeks for a "software upgrade". At the time of writing it is still as bad, and Vodaphone are letting me replace it with a different phone.
It's a lovely looking phone, cute and easy to use - but no good if it keeps having problems
J
beautiful handset in pink, I bought this on contract and am amzed by the camera quality & how light weight this handset is. I urge everyone to buy this
Total of 789 user reviews and opinions for VK Mobile VK530.