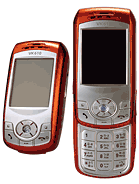 L
Do not buy any VK Mobile phones.
They have very bad quality check in terms of hardware and software.

You have been warned.

I have changed the motherboard (not for this model, but likely to happen) 3 times and the h/p still hangs.

The SW is crap!!!!
A
the phone needs megapixel camera and as well as bluetooth,infrared etc... but the best thing about this is the colour matching with metallic red.
A
well,the phones awesome COOL and FUNKY design.but still it needs some features to be put in. and i am sure that this phone will ROCK mate.
r
Vk mobile is a korean company
a
never heard of a brand named VK
where it is made?
is it available in india?
what is the price?
seems to be a cool phone but can it match the performance given by a nokia ohone
b
how much does this phone cost...please email me bak at mtbracer@zoominternet.net
T
Looks like a samsung E800. Wooooo great creativity VK!!! .... pffft
Total of 7 user reviews and opinions for VK Mobile VK610.