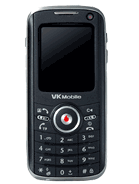 h
this is a reply for ToNy, have you checked the size of the file ? I have loaded mp3 files before and have been in the same situation... someone suggested that I check the file size to see how big it was. it turned out to be massive so I loaded the same file but with smaller size.. Hope this helps :-)
h
if this phone is like any of the other VKs it will surely be an amazing bit of kit !! I have a VK 4000 and it is just perfect
A
i suggest that u put the length of videos it can play and the apprx number of mp3 songs it can play coz what we care most about is the memory, battery life and durability
T
i got this phone for my son and only can get to upload 1 mp3 to it any one no why?
r
i wana buy this phone , and all i care is to be small and easy ,,no gadegets atached ...and tv or else .but i am also interested about the battery life . till now i think it;s great .
a
This phone is really something amazing. If if performs as well as it looks, and if its features carry the torch, I believe it just might show us the way to mobile Nirvana.
H
Woohoo, this phone looks cool and it's Vodafone branded which means that it might actually make it to europe, unlike most prvious "good" VK's
?
where is the fm radio ? And the analog tv tuner ( pal - nsc ) signals ?
Total of 11 user reviews and opinions for VK Mobile VK7000.