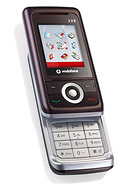 ?
This phone is for people who dont want a complicated pphone, obviously- look at the specifications. It was clearly made as a basic phone for people who want something easy to use-so it is great for that category of people. Dont buy it if your goin to complain that it has no features look at the specs b4 you purchase
p
Can we download any other ringtones or games in this mobile??? If possible please any one tell how to do so.....
n
I have this phone. It's a total crap. The only things that I like are the shape, the weight and the slide.
?
this is the wors phone i'd never had,looks good from the outside but verry bad from the insid. it googd for people ho need a phone only to call and work.
m
nice looking....but thats it, good finishing but poor quality, slow and extremely hard to read display....
?
Good phone for people who don't need or want all the flashy features most phones have. Especially for people who just use phones for an emergency.Basic, easy to use, simple!
?
This is the dumbest phone I have ever used.

It is slow as hell too... SMS, old-school games and ability to call. That is it. No fancy ring tones... NOTHING!!

Nice shape BUT WASTE OF MONEY
Total of 68 user reviews and opinions for Vodafone 228.