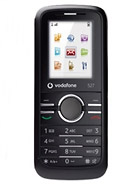 A
It includes MPEG 4 Visual standard decoding technology yet video cannot be played pls let me know how to activate the option of video play on it. My phone nos is 9769507021. pls
R
I have purchase Vodafone 527 on 3.8.2008 from M/s. sunrise Communication, Bandra (W) I have informed about Video facility is available within the mobile. But same is not available on this same model nos. So please help me reply on My Mobil Nos. 9769507021 or email me on riteshdevkar@yahoo.co.in
L
It IS made by Sagem. Phone's ok for that price, looks nice and slim, but the ringtones are soooo quiet!! Even when you change it to 4 (which is the loudest) it's impossible to hear it ringing when outside.
M
rio, 22 Jul 2008Let's share my oppinion: 1. The display - it's very bright and is hardly visible on sunlight.... moreI just bought this phone for £30 Sterling. its a good first phone I think, but the features are not very advanced and there are many good features missing. I would prefer this to a Samsung E250 (around the same cost) anyday!
?
this phone cost €59.90 in Portugal and acessories on the box are charger obvious, stereo headset, and a bluetooth headset all this for €59.90 is cheap. The phone is not so special but for the price is cool the menu is similar to other phones, the ringtones are ridiculous but wherever
r
Let's share my oppinion:
1. The display - it's very bright and is hardly visible on sunlight.
2. There is not "Vibrate & ring" option, on you can only get the phone vibrating by choosing the "Vibrate" profile from the settings menu.
3. Can not modify LEFT and RIGHT buttons' shortcuts, they're always set to "MENU" and "Vodafone Live!". You're not even able to select shortcuts you want for the navigation key - you may choose between 15 pre-defined shortcuts.
4. Phone ringing is always incremental, doesn't matter if you selected loud ring (Level 4) from the settings menu.
5. Some java games and applications are not running.
6. There is no possibility to record video!
7. If you want to record a sound you should go deeply in the menu which is very user unfriendly.
8. Battery capacity is very small so it needs to be charged very often.
9. Everything seems to be OK for that kind of really cheap phone. :)
Total of 208 user reviews and opinions for Vodafone 527.