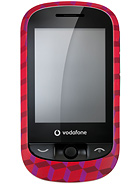 A
@Ja: Can you give one to me? I really like that phone. It's a simple one and even cute. If you just use it for it's "phone" properties it's perfect. If you need internet get a pda or a netbook. If you need a camera buy a camera, don't expect a simple and cheap phone to fulfill all your needs. If you want an all-in-one phone you should pay for it.
J
I got a few of these for free for my company, so far not one person expressed interest. The screen is big enough for calling and dialing. That's it. The camera is useless, forget about texting or e-mails. there simply isn't enough space on the screen for the virtual keyboard and text.
Total of 223 user reviews and opinions for Vodafone 543.