Vodafone announced a boatload of new phones. The Vodafone 845 is an affordable Android 2.1 handset, the Vodafone 547 and 543 are two other touch phones and there's also a long list of entry-level offerings.
The Vodafone 845 runs the latest Android OS and offers a 2.8" QVGA touchscreen, GPS, a 3.2MP camera, and good connectivity options - 3G with HSDPA as weel as Wi-Fi. It will be available in black and white starting next month.
The Vodafone 543 and 547 are the other two touch-driven phones in the litter, though they are feature phones. The Vodafone 547 has a 2.8" WQVGA touchscreen and comes out this month in black, white and red, while the Vodafone 543 has exchangeable covers and a smaller 2.4" QVGA touchscreen and will be available next month.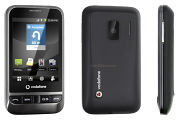 Vodafone 845 • 543 • 546 • 547
The Vodafone 546 is a candy bar with portrait 2.2" QVGA screen and full QWERTY keyboard and it's slated for an April release. Later, the Vodafone 345 and 350 are coming in July and August respectively, and they have 1.8" (they are marked as "ultra low cost handsets - ULCH") screens but retain the QWERTY keyboards.
The last of the bunch are "ULCH" phones too - starting with the Vodafone 246 in April, followed by 247 in June, which adds a solar panel to the 246 specs, and in May - the Vodafone 248 slider.
J
Hi, well me mobil phone are Vodafone Rock 547.Android 2.1 work in me mobile phone? Help me please
?
you guys spelt well as weel
?
Yeah... ANDROID 2.1 running on MINI's!!!! like it very much. Android minis are the future!!! Nokia is dead...Long life the new king! (Sorry for you symbian guys)
ADVERTISEMENTS