So that's the iPhone 4S officially confirmed, then! The news was brought by no other but Vodafone Germany, who obviously got a bit overenthusiastic and added the iPhone 4S to the compatibility list of the Apple bumper listing on their website.
A few very interesting things came out from this listing. First, the iPhone 4S will be coming in both white and black, which was as expected. What's more important though is that it will have the same design and dimensions as the iPhone 4, as it will obviously use the same bumpers. One can't help, but wonder if they fixed the death grip issues.
The listing also mentions 64GB of storage, which will be a first for the iPhone. Previously, iPhone storage options only went as high as 32GB, but you will be able to get twice that with the iPhone 4S.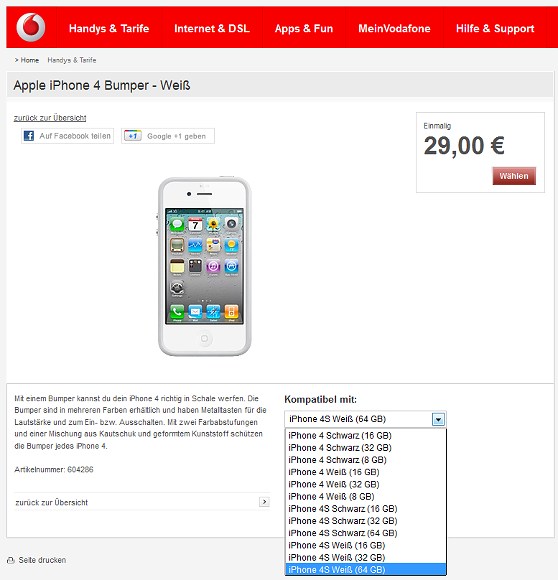 The final bit of info that we found on that page concerned the current iPhone. The iPhone 4 will obviously follow in the 3GS' footsteps and will be relegated to the mid-range with an 8GB flavor. That one will be available in both black and white colors, so those hoping to get a white iPhone 4 on the cheap will get their chance now.
A hat tip to Shubham for sending this in.
D
Sprint are the only one with unlimited data i think that's the main reason for sprint to have exclusivity over iphone 5. In icoud everything will be store in the could you need internet.
D
They Removed The Option 4s now .Checked Earlier This Morning...... See This Video..... http://www.youtube.com/watch?v=iXcSY1OpkqY
ADVERTISEMENTS